Description

Patra – Torch Relay Greek Route Overnight Stay
Athens 2004 Olympic Games Pin
The Olympic Flame stay overnight in Greek City Patra at 8 August 2004
The 2004 Summer Olympics Torch Relay took the Olympic Flame across every habitable continent, returning to Athens, Greece. Every citywhich had hosted the Summer Olympics was revisited by the torch, as well as several other cities chosen for their international importance.
The relay was the first time the Olympic flame had travelled to Africa, India and South America. The flame was transported from country to country aboard a specially-equipped Boeing 747 leased from Atlanta Icelandic (Registration TF-ARO) called Zeus. On board the flame was carried and burned continuously in specially modified miners lamps.
Patra is Greece's third largest city and the regional capital of Western Greece, in northern Peloponnese, west of Athens. The city is built at the foothills of Mount Panachaikon, overlooking the Gulf of Patras.
West of the Acropolis, in "Ano Poli" (upper city) you can visit Patra's Roman Odeum, that was built at an earlier date than the Athens Odeum (Herodion 160 AD).
The geographer Pausanias who visited Patra in 170 AD, writes "it has the most beautiful decoration I have ever seen, excluding of course that of Athens". As mentioned by Pausanias, inside the Odeum, which was a continuation of the ancient Agora, there was a statue of Apollo, made of loot, from the war against the Gauls (279 BC) when the Patrians has assisted the Aitolians.
During the following centuries, earthquakes, wars, and conquerors, destroyed the Odeum and covered it with earth and other buildings. From the small hill that was formed, only few parts remained uncovered. It came to light once again in 1889, when excavation works took place on hill for embankment of the port.
A number of decades were to go by before the beginning of reconstruction works, which were completed in 1965, the year during which the Odeum regained its initial form. In the same decade, the surrounded space was turn into an archaeological area where mosaics, sarcophagic and other ancient findings were displayed.
The Odeum consists of all main parts of a theatre, concave, orchestra, front-stage, stage and back-stage whilst the 23 rows of seats, can accommodate 2.300 spectators.
Since the establishment of the Patra International Festival, the Ancient Odeum constitutes its main stage, hosting top Greek and foreign artistic ensembles, during the summer months.
The pin depicts the Torch in Patra where stay overnight
Product: Olympic Pin
Pin code: #04-161-038
Tiraz: <1.000pcs
Official Licensed Product
Licensed Manufacturer:

Efsimon Collection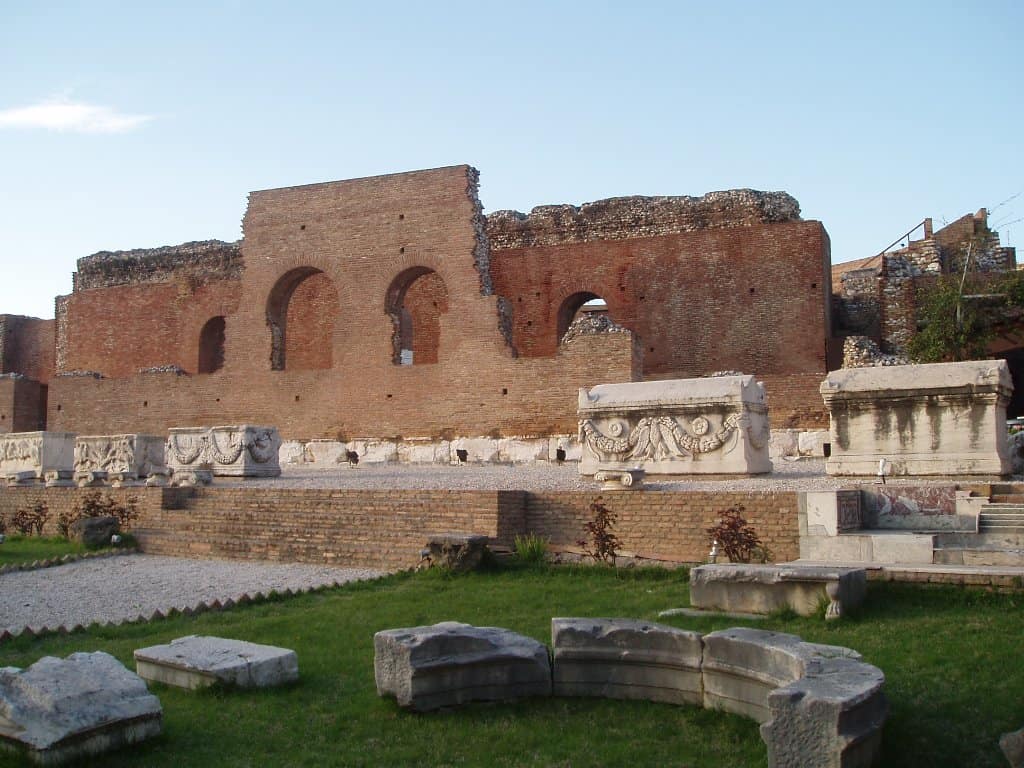 Buy it Now and Join the Wonderfull Winning World!!! 
 Athens 2004 – Beijing 2008 – London 2012 – Rio 2016 
 Games of the XXVIII Olympiad in Athens – 13 to 29 August 2004