Helsinki Torch 1952 Original Olympic Torch
Διαβάστε το άρθρο στην Ελληνική γλώσσα παρακάτω.
After the invitation of my friend Xristos Tirovouzis I have decided to share with the visitors of this website the experiences and knowledge I have gained from my occupation with the great and magnificent world of Olympic Memmorabilias.
As my first subject I chose one of the most legendary Olympic items that is believed to be the Holy Grail of collectors: the torch of the 1952 Olympic Games in Helsinki. Only 22 torches were produced, 15 of which are made of a special alloy that contains 750 gr. of silver. The rest of the torches are made of bronze and are decorated with a much simpler design. The wooden handle of the torch is made of a particular, Finnish kind of birch called curly birch., Because of the limited number of available pieces, the usual procedure was not followed and, instead of the torch, torch-bearers were awarded a special medal. During the torch-race, torches were passed on from one torch-bearer to another. More specifically, when one torch-bearer's part of the root was over, and after the lightning of the next torch, they would throw away the empty canister and replace it with a new one so that the torch would be ready for the next part of the journey.
In the process 5 torches got lost or were destroyed. From the 10 remaining silver ones plus one that was reconstructed , 3 were donated to the Olympic Committees of Greece, Denmark and Sweden that hosted the torch-race. One torch was also given to the Scandinavian Airlines which transported the Olympic flame from Greece to Denmark. The rest were donated to 4 museums and 3 Finnish and one Swedish sport federations.
Today, the torch of Helsinki is considered a national treasure for Finland and its exportation or sale outside the country's borders is forbidden by law. Below you can see an image of the Burner container of the Torch.
To visit my site please follow the link below.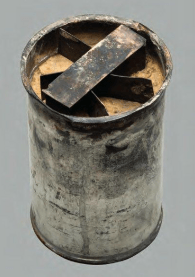 Olympic Memmorabilia Collection by Stratos Klimou
Ελσίνκι 1952 – Γνήσια Ολυμπιακή Δάδα
Μετά από πρόσκληση του φίλου Χρήστου Τυροβούζη αποφάσισα να μοιραστώ με τους επισκέπτες της ιστοσελίδας τις εμπειρίες και τις γνώσεις που αποκόμισα από την ενασχόληση μου με τον θαυμαστό και απέραντο σε έκταση κόσμο των Ολυμπιακών Ενθυμημάτων ή Olympic Memmorabilias.
Σαν πρώτο θέμα διάλεξα ένα από τα μυθικά αντικείμενα του χώρου που θα μπορούσε να χαρακτηριστεί, το Άγιο Δισκοπότηρο των συλλεκτών. Την Δάδα των Ολυμπιακών Αγώνων στο Ελσίνκι το 1952. Κατασκευάστηκε σε 22 κομμάτια, τα 15 από ειδικό κράμα που περιέχει 750 γραμμάρια ασήμι και τα 7 από μπρούτζο και με ένα πιο απλό σχέδιο. Η ξύλινη λαβή της είναι από curly birch (σγουρή σημύδα) μια παραλλαγή σημύδας από την Φινλανδία. Λόγω του μικρού αριθμού δάδων δεν ακολουθήθηκε η συνηθισμένη παράδοση της απονομής της δάδας στους λαμπαδηδρόμους. Αντί για αυτό έλαβαν από ένα ειδικό μετάλλιο. Κατά την Λαμπαδηδρομία οι δάδες εναλλάσσονταν μεταξύ των δρομέων και συγκεκριμένα, όταν τέλειωνε η διαδρομή και γινόταν η μεταλαμπάδευση, ο λαμπαδηδρόμος έριχνε το άδειο πλέον δοχείο καύσιμης ύλης στο έδαφος, ένα γεμάτο έμπαινε στην θέση του και η δάδα ήταν έτοιμη για την επόμενη μεταλαμπάδευση.
Στην διάρκεια της Λαμπαδηδρομίας 5 Δάδες χάθηκαν ή καταστράφηκαν. Από τις 10 εναπομείνασες δάδες συν μία που ανακατασκευάσθηκε, 3 δωρήθηκαν στις Ολυμπιακές Επιτροπές Ελλάδας, Δανίας και Σουηδίας που φιλοξένησαν την Λαμπαδηδρομία. Οι Σκανδιναβικές Αερογραμμές που μετέφεραν την φλόγα από την Ελλάδα στην Δανία επίσης πήραν μία δάδα. Το ίδιο έγινε και για 4 μουσεία, 3 Φινλανδικές και μία Σουηδική Αθλητικές Ομοσπονδίες.
Σήμερα η Δάδα του Ελσίνκι θεωρείται Εθνικός Θησαυρός για την Φινλανδία και η εξαγωγή και πώληση της εκτός των συνόρων της απαγορεύεται από τον νόμο όπως ακριβώς συμβαίνει με τις Ελληνικές Αρχαιότητες. Στις φωτογραφίες του άρθρου η δάδα και το δοχείο καύσιμης ύλης.
Για να επισκευτείτε την ιστοσελίδα μου παρακαλώ χρησιμοποιήστε το πιο πάνω Link