Description

Delphi – Torch Relay Greek Route Overnight Stay
Athens 2004 Olympic Games Pin
The Olympic Flame stay overnight in Greek City Delphi at 3 August 2004
The 2004 Summer Olympics Torch Relay took the Olympic Flame across every habitable continent, returning to Athens, Greece. Every citywhich had hosted the Summer Olympics was revisited by the torch, as well as several other cities chosen for their international importance.
The relay was the first time the Olympic flame had travelled to Africa, India and South America. The flame was transported from country to country aboard a specially-equipped Boeing 747 leased from Atlanta Icelandic (Registration TF-ARO) called Zeus. On board the flame was carried and burned continuously in specially modified miners lamps.
Delphi is both an archaeological site and a modern town in Greece on the south-western spur of Mount Parnassus in the valley of Phocis. In myths dating to the classical period of Ancient Greece (510-323 BC), the site of Delphi was believed to be determined by Zeus when he sought to find the centre of his "Grandmother Earth" (Ge, Gaea, or Gaia). He sent two eagles flying from the eastern and western extremities, and the path of the eagles crossed over Delphi where the omphalos, or navel of Gaia was found.
The Tholos at the sanctuary of Athena Pronoia is a circular building that was constructed between 380 and 360 BC. It consisted of 20 Doric columns arranged with an exterior diameter of 14.76 meters, with 10 Corinthian columns in the interior.
The Tholos is located approximately a half a mile (800 m) from the main ruins at Delphi . Three of the Doric columns have been restored, making it the most popular site at Delphi for tourists to take photographs. Vitruvius (vii, introduction) notes Theodorus of Samos as the architect of the Round Building which is at Delphi.
The pin depicts the Torch in Delphi where stay overnight
Product: Olympic Pin
Pin code: #04-161-033
Tiraz: <1.000pcs
Official Licensed Product
Licensed Manufacturer:

Efsimon Collection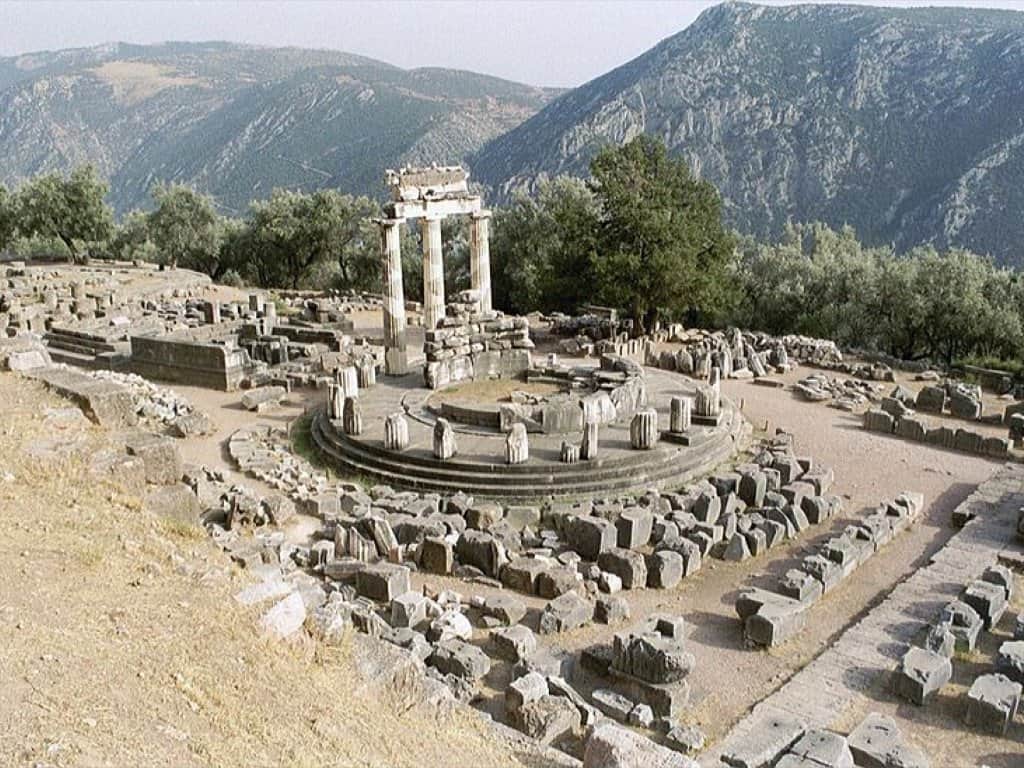 Buy it Now and Join the Wonderfull Winning World!!! 
 Athens 2004 – Beijing 2008 – London 2012 – Rio 2016 
 Games of the XXVIII Olympiad in Athens – 13 to 29 August 2004