Description

Nicosia – Torch Relay International Route Pictogram Cities
Athens 2004 Olympic Games Pin
The Olympic Flame passed from Nicosia city.
The 2004 Summer Olympics Torch Relay took the Olympic Flame across every habitable continent, returning to Athens, Greece. Every citywhich had hosted the Summer Olympics was revisited by the torch, as well as several other cities chosen for their international importance.
The relay was the first time the Olympic flame had travelled to Africa, India and South America. The flame was transported from country to country aboard a specially-equipped Boeing 747 leased from Atlanta Icelandic (Registration TF-ARO) called Zeus. On board the flame was carried and burned continuously in specially modified miners lamps.
Nicosia is the capital and largest city on the island of Cyprus, as well as its main business centre. It is located near the centre of the Mesaoria plain, on the banks of the River Pedieos.
Nicosia is the capital and seat of government of the Republic of Cyprus, and as such is the farthest southeast of all EU member states' capitals. It has been continuously inhabited for over 4,500 years and has been the capital of Cyprus since the 10th century. Nicosia was divided into the southern Greek Cypriot and the northern Turkish Cypriot parts in 1963, following the intercommunal violence that broke out in the city. Today, the northern part of the city is the capital of Northern Cyprus, a de facto state that is considered to be occupied Cypriot territory by the international community.
The Famagusta Gate is a gate in the Nicosia walls, Cyprus. It is the chief gate of the city: the Porta Giuliana, or "di sotto" of Fra Stefano Lusignano's " Chorograffia", known as Famagusta Gate in modern times. This construction, in the Venetian style has been copied from the famous Lazaretto Gate of Candia designed by Michael Sammicheli at the beginning of the 16th century, and consists of a vaulted passage through the earthwork rampart of the city with a carefully executed spherical dome, eleven metres in diameter, in its centre. The passageway is large enough for two vehicles to pass, and it is lighted by a circular opening in the centre of the dome in the style of the Pantheon, Rome. On either side of this passage appear to be entrances into chambers now blocked up. The external doorway of the Porta Giuliana is a small archway in the re-entering angle or "orecchione" of the Caraffa bastion now somewhat injured by breakage of the arch stones, and the ancient doors, etc., are missing. On the inner side of the gateway, facing the town, is an imposing facade.
The pin depicts the torchbearer passing from the monument of Nicosia city
Product: Olympic Torch Relay Pin
Pin code: #04-167-012
Tiraz: <1.000pcs
Official Licensed Product
Licensed Manufacturer:

Efsimon Collection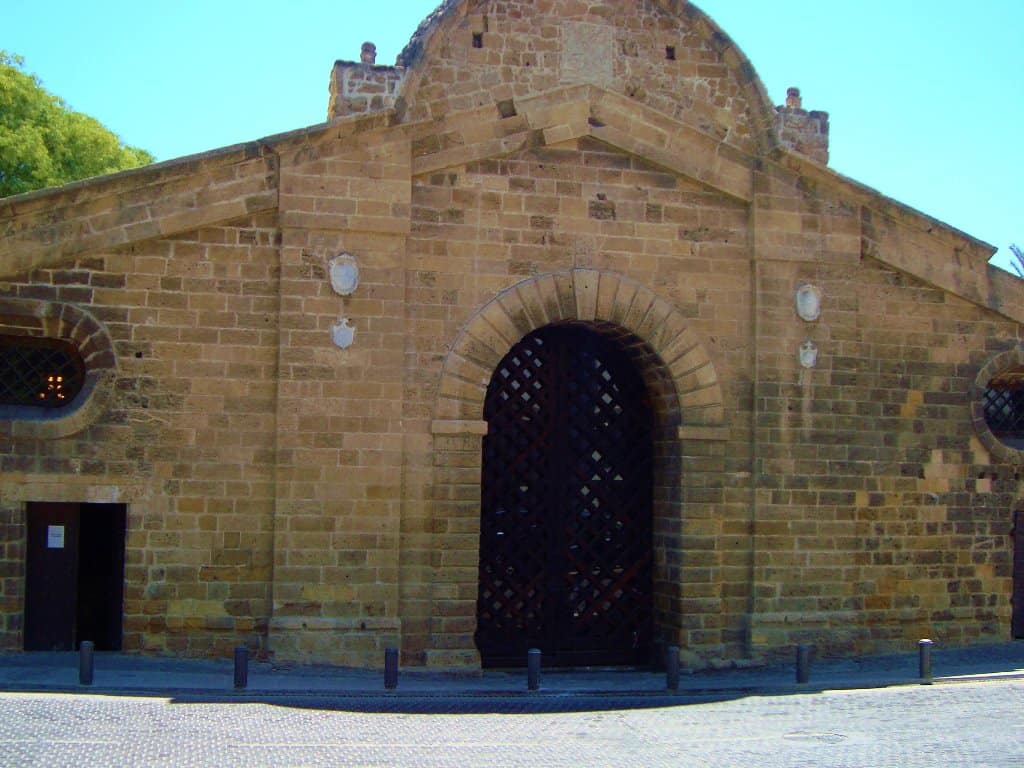 Buy it Now and Join the Wonderfull Winning World!!! 
 Athens 2004 – Beijing 2008 – London 2012 – Rio 2016 
 Games of the XXVIII Olympiad in Athens – 13 to 29 August 2004