Description

Instabul – Torch Relay International Route Pictogram Cities
Athens 2004 Olympic Games Pin
The Olympic Flame passed from Instabul city.
The 2004 Summer Olympics Torch Relay took the Olympic Flame across every habitable continent, returning to Athens, Greece. Every citywhich had hosted the Summer Olympics was revisited by the torch, as well as several other cities chosen for their international importance.
The relay was the first time the Olympic flame had travelled to Africa, India and South America. The flame was transported from country to country aboard a specially-equipped Boeing 747 leased from Atlanta Icelandic (Registration TF-ARO) called Zeus. On board the flame was carried and burned continuously in specially modified miners lamps.
Istanbul, historically also known as Constantinople and Byzantium, is the most populous city in Turkey and the country's economic, cultural, and historic center. Istanbul is a transcontinental city in Eurasia, straddling the Bosphorus strait between the Sea of Marmara and the Black Sea. Its commercial and historical center lies on the European side and about a third of its population lives on the Asian side. The city is the administrative center of the Istanbul Metropolitan Municipality (coterminous with Istanbul Province), both hosting a population of around 14 million residents. Istanbul is one of the world's most populous cities and ranks as world's 6th-largest city proper and the largest European city.
Hagia Sophia is a former Christian patriarchal basilica (church), later an imperial mosque, and now a museum (Ayasofya Muzesi) in Istanbul, Turkey. From the date of its construction in 537 until 1453, it served as an Orthodox cathedral and seat of the Patriarch of Constantinople, except between 1204 and 1261, when it was converted to a Roman Catholic cathedral under the Latin Empire. The building was a mosque from 29 May 1453 until 1931. It was then secularized and opened as a museum on 1 February 1935.
Famous in particular for its massive dome, it is considered the epitome of Byzantine architecture and is said to have "changed the history of architecture". It remained the world's largest cathedral for nearly a thousand years, until Seville Cathedral was completed in 1520. The current building was originally constructed as a church between 532 and 537 on the orders of the Byzantine Emperor Justinian I and was the third Church of the Holy Wisdom to occupy the site, the previous two having both been destroyed by rioters. It was designed by the Greek geometers Isidore of Miletus and Anthemius of Tralles.
The pin depicts the torchbearer passing from the monument of Instabul city
Product: Olympic Torch Relay Pin
Pin code: #04-167-015
Tiraz: <1.000pcs
Official Licensed Product
Licensed Manufacturer:

Efsimon Collection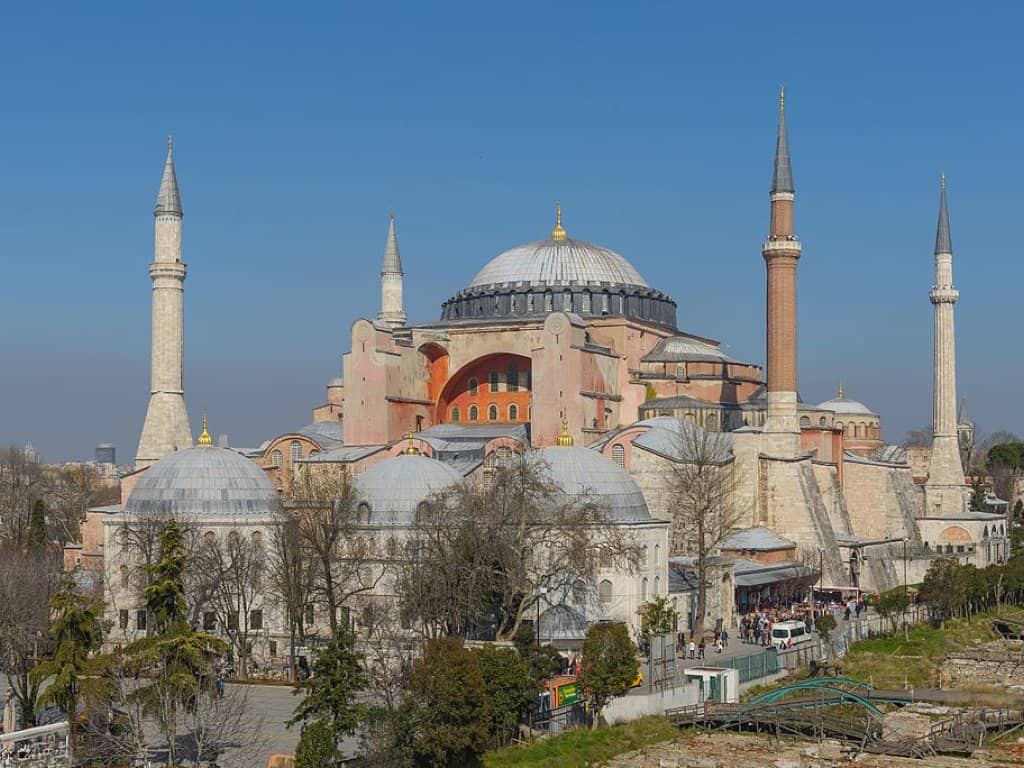 Buy it Now and Join the Wonderfull Winning World!!! 
 Athens 2004 – Beijing 2008 – London 2012 – Rio 2016 
 Games of the XXVIII Olympiad in Athens – 13 to 29 August 2004