Description

Barcelona – Torch Relay International Route Pictogram Cities
Athens 2004 Olympic Games Pin
The Olympic Flame passed from Barcelona city.
The 2004 Summer Olympics Torch Relay took the Olympic Flame across every habitable continent, returning to Athens, Greece. Every citywhich had hosted the Summer Olympics was revisited by the torch, as well as several other cities chosen for their international importance.
The relay was the first time the Olympic flame had travelled to Africa, India and South America. The flame was transported from country to country aboard a specially-equipped Boeing 747 leased from Atlanta Icelandic (Registration TF-ARO) called Zeus. On board the flame was carried and burned continuously in specially modified miners lamps.
Barcelona is the capital city of the autonomous community of Catalonia in Spain and Spain's second most populated city, with a population of 1.6 million within its administrative limits. Its urban area extends beyond the administrative city limits with a population of around 4.7 million people, being the seventh-most populous urban area in the European Union after Paris, London, Madrid, the Ruhr area, Berlin and Milan. It is the largest metropolis on the Mediterranean Sea, located on the coast between the mouths of the rivers Llobregat and Besos, and bounded to the west by the Serra de Collserola mountain range, the tallest peak of which is 512 metres (1,680 ft) high.
The Basilica i Temple Expiatori de la Sagrada Familia is a large Roman Catholic church in Barcelona, designed by Spanish architect Antoni Gaudi (1852–1926). Although incomplete, the church is a UNESCO World Heritage Site,[5] and in November 2010 Pope Benedict XVI consecrated and proclaimed it a minor basilica, as distinct from a cathedral, which must be the seat of a bishop.
Construction of Sagrada Familia had commenced in 1882 and Gaudi became involved in 1883, taking over the project and transforming it with his architectural and engineering style, combining Gothic and curvilinear Art Nouveau forms. Gaudi devoted his last years to the project, and at the time of his death at age 73 in 1926, less than a quarter of the project was complete.
The pin depicts the torchbearer passing from the monument of Barcelona city
Product: Olympic Torch Relay Pin
Pin code: #04-167-024
Tiraz: <1.000pcs
Official Licensed Product
Licensed Manufacturer:

Efsimon Collection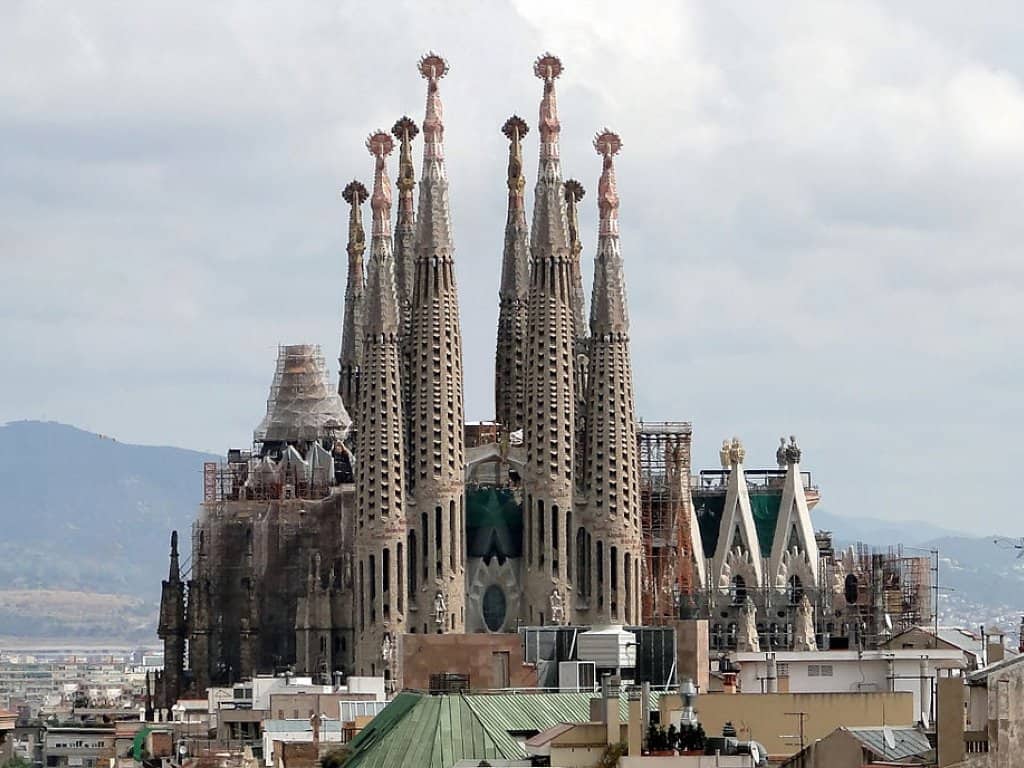 Buy it Now and Join the Wonderfull Winning World!!! 
 Athens 2004 – Beijing 2008 – London 2012 – Rio 2016 
 Games of the XXVIII Olympiad in Athens – 13 to 29 August 2004