Description

Atlanta – Torch Relay International Route Pictogram Cities
Athens 2004 Olympic Games Pin
The Olympic Flame passed from Atlanta city.
The 2004 Summer Olympics Torch Relay took the Olympic Flame across every habitable continent, returning to Athens, Greece. Every citywhich had hosted the Summer Olympics was revisited by the torch, as well as several other cities chosen for their international importance.
The relay was the first time the Olympic flame had travelled to Africa, India and South America. The flame was transported from country to country aboard a specially-equipped Boeing 747 leased from Atlanta Icelandic (Registration TF-ARO) called Zeus. On board the flame was carried and burned continuously in specially modified miners lamps.
Atlanta is the capital of and the most populous city in the U.S. state of Georgia, with an estimated 2013 population of 447,841. Atlanta is the cultural and economic center of the Atlanta metropolitan area, home to 5,522,942 people and the ninth largest metropolitan area in the United States. Atlanta is the county seat of Fulton County, and a small portion of the city extends eastward into DeKalb County.
The Baron Pierre de Coubertin Statue is monument in the corner of the Centennial Olympic Park in Atlanta, Georgia. This statue was created in honor of the founder of the Modern Olympic Movement, Baron Pierre de Coubertin. On the back of the statue there is a plaque that reads quote by Coubertin: "The most important thing in the olympic games is not to win but to take part, just as in life, the most important thing is not the triumph but the struggle.The essential thing is not to have conquered but to have fought well" (Coubertin). Coubertin was responsible for reviving the ancient games in 1896.
This monument was built in reference to the 1996 Summer Olympics in Atlanta, Georgia. For Atlanta, the Olympics was the largest undertaking in the city's history. "The Olympics brought increased attention and investment to the area from around the globe. New sports venues were built park spaces was created, sidewalks and streets were improved and even housing patterns were altered" (Newman). Atlanta wanted to be represented as an international city ready to play an significant part in global commerce. The olympic games had so much of a impact on the city of Atlanta that it literally changed the landscape of downtown Atlanta which increased tourism a great deal.
The pin depicts the torchbearer passing from the monument of Atlanta city
Product: Olympic Torch Relay Pin
Pin code: #04-167-022
Tiraz: <1.000pcs
Official Licensed Product
Licensed Manufacturer:

Efsimon Collection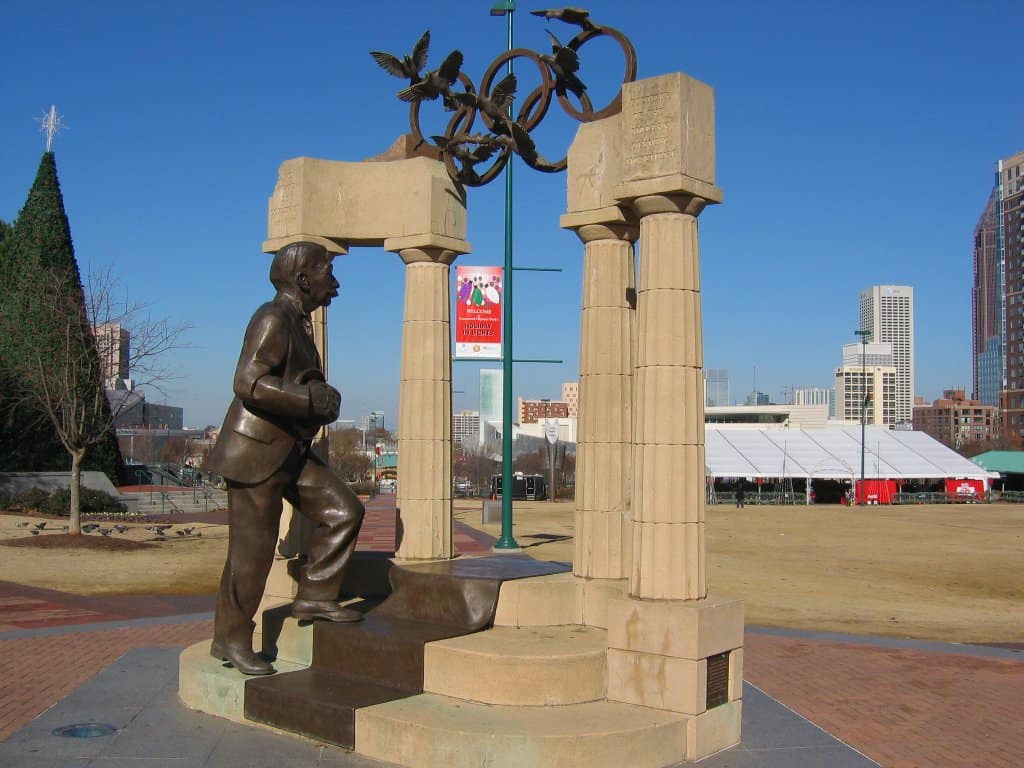 Buy it Now and Join the Wonderfull Winning World!!! 
 Athens 2004 – Beijing 2008 – London 2012 – Rio 2016 
 Games of the XXVIII Olympiad in Athens – 13 to 29 August 2004