Description

Melburn – Torch Relay International Route Cities
Athens 2004 Olympic Games Pin
The Olympic Flame passed from Melburn city.
The 2004 Summer Olympics Torch Relay took the Olympic Flame across every habitable continent, returning to Athens, Greece. Every citywhich had hosted the Summer Olympics was revisited by the torch, as well as several other cities chosen for their international importance.
The relay was the first time the Olympic flame had travelled to Africa, India and South America. The flame was transported from country to country aboard a specially-equipped Boeing 747 leased from Atlanta Icelandic (Registration TF-ARO) called Zeus. On board the flame was carried and burned continuously in specially modified miners lamps.
Melbourne is the capital and most populous city in the Australian state of Victoria, and the second most populous city in Australia and Oceania. The name "Melbourne" refers to the area of urban agglomeration (as well as a census statistical division) spanning 9,900 km2 (3,800 sq mi) which comprises the broader metropolitan area, as well as being the common name for its city centre. The metropolis is located on the large natural bay of Port Phillip and expands into the hinterlands towards the Dandenong and Macedon mountain ranges, Mornington Peninsula and Yarra Valley. Melbourne consists of 31 municipalities. It has a population of 4,347,955 as of 2013, and its inhabitants are called Melburnians.
The Shrine of Remembrance, located in Kings Domain on St Kilda Road, Melbourne, Australia was built as a memorial to the men and women of Victoria who served in World War I and is now a memorial to all Australians who have served in war. It is a site of annual observances of ANZAC Day (25 April) and Remembrance Day (11 November) and is one of the largest war memorials in Australia.
Designed by architects Phillip Hudson and James Wardrop who were both World War I veterans, the Shrine is in a classical style, being based on the Tomb of Mausolus at Halicarnassus and the Parthenon in Athens. The crowning element at the top of the memorial's ziggurat roof references the Choragic Monument of Lysicrates. Built from Tynong granite, the Shrine originally consisted only of the central sanctuary surrounded by the ambulatory. The sanctuary contains the marble Stone of Remembrance, upon which is engraved the words "Greater love hath no man". Once a year, on 11 November at 11 a.m. (Remembrance Day), a ray of sunlight shines through an aperture in the roof to light up the word "Love" in the inscription. Beneath the sanctuary lies the crypt, which contains a bronze statue of a soldier father and son, and panels listing every unit of the Australian Imperial Force.
The pin depicts a monument of Melburn city where the Olympic Flame passed
Product: Olympic Torch Relay Pin
Pin code: #04-171-032
Tiraz: <1.000pcs
Official Licensed Product
Licensed Manufacturer:

Efsimon Collection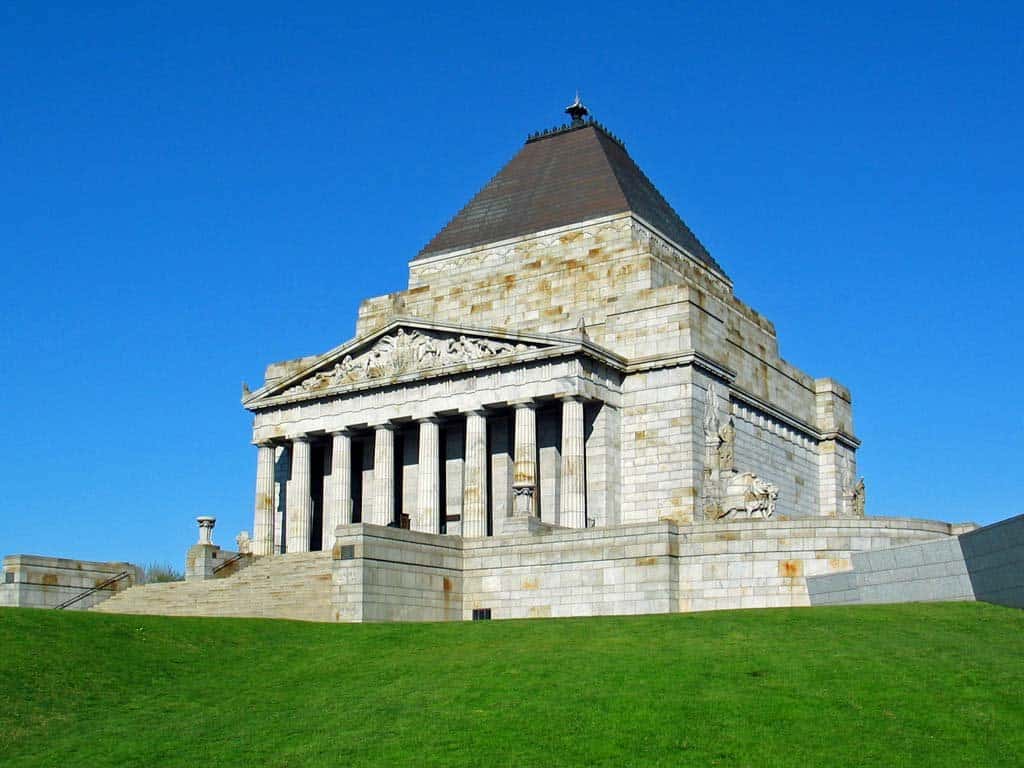 Buy it Now and Join the Wonderfull Winning World!!! 
 Athens 2004 – Beijing 2008 – London 2012 – Rio 2016 
 Games of the XXVIII Olympiad in Athens – 13 to 29 August 2004