Description

Los Angeles – Torch Relay International Route Cities
Athens 2004 Olympic Games Pin
The Olympic Flame passed from Los Angeles city.
The 2004 Summer Olympics Torch Relay took the Olympic Flame across every habitable continent, returning to Athens, Greece. Every citywhich had hosted the Summer Olympics was revisited by the torch, as well as several other cities chosen for their international importance.
The relay was the first time the Olympic flame had travelled to Africa, India and South America. The flame was transported from country to country aboard a specially-equipped Boeing 747 leased from Atlanta Icelandic (Registration TF-ARO) called Zeus. On board the flame was carried and burned continuously in specially modified miners lamps.
Los Angeles is the second-largest city in the United States after New York City, the most populous city in the state of California, and the county seat of Los Angeles County.
Situated in Southern California, Los Angeles is known for its mediterranean climate, ethnic diversity, sprawling metropolis, and as a major center of the American entertainment industry. Los Angeles lies in a large coastal basin surrounded on three sides by mountains reaching up to and over 10,000 feet (3,000 m).
Los Angeles City Hall, completed 1928, is the center of the government of the city of Los Angeles, California, and houses the mayor's office and the meeting chambers and offices of the Los Angeles City Council. It is located in the Civic Center district of downtown Los Angeles in the city block bounded by Main, Temple, First, and Spring streets.
The building was designed by John Parkinson, John C. Austin, and Albert C. Martin, Sr., and was completed in 1928. Dedication ceremonies were held on April 26, 1928. It has 32 floors and, at 454 feet (138 m) high, is the tallest base-isolated structure in the world, having undergone a seismic retrofit from 1998 to 2001 so that the building will sustain minimal damage and remain functional after a magnitude 8.2 earthquake. The concrete in its tower was made with sand from each of California's 58 counties and water from its 21 historical missions. City Hall's distinctive tower was based on the shape of the Mausoleum of Mausolus, and shows the influence of the Los Angeles Public Library, completed soon before the structure was started. An image of City Hall has been on Los Angeles Police Department badges since 1940.
The pin depicts a monument of Los Angeles city where the Olympic Flame passed
Product: Olympic Torch Relay Pin
Pin code: #04-171-015
Tiraz: <1.000pcs
Official Licensed Product
Licensed Manufacturer:

Efsimon Collection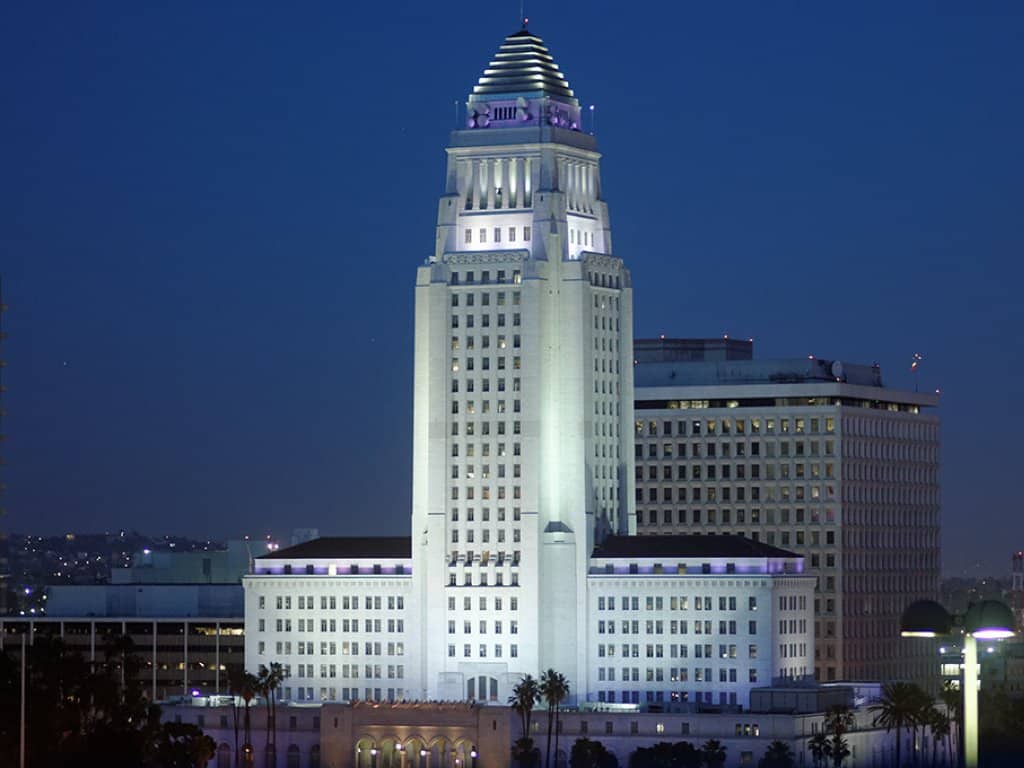 Buy it Now and Join the Wonderfull Winning World!!! 
 Athens 2004 – Beijing 2008 – London 2012 – Rio 2016 
 Games of the XXVIII Olympiad in Athens – 13 to 29 August 2004