Description

Santorini – Torch Relay Greek Route
Athens 2004 Olympic Games Pin
The Olympic Flame past from Greek City, Santorini.
The 2004 Summer Olympics Torch Relay took the Olympic Flame across every habitable continent, returning to Athens, Greece. Every citywhich had hosted the Summer Olympics was revisited by the torch, as well as several other cities chosen for their international importance.
The relay was the first time the Olympic flame had travelled to Africa, India and South America. The flame was transported from country to country aboard a specially-equipped Boeing 747 leased from Atlanta Icelandic (Registration TF-ARO) called Zeus. On board the flame was carried and burned continuously in specially modified miners lamps.
Santorini is an island in the southern Aegean Sea. The island is the site of one of the largest volcanic eruptions in recorded history: the Minoan eruption (sometimes called the Thera eruption), which occurred some 3,600 years ago at the height of the Minoan civilization. The eruption left a large caldera surrounded by volcanic ash deposits hundreds of metres deep and may have led indirectly to the collapse of the Minoan civilization on the island of Crete, 110 km (68 mi) to the south, through a gigantic tsunami. Another popular theory holds that the Thera eruption is the source of the legend of Atlantis.
The devastating volcanic eruption of Thera has become the most famous single event in the Aegean before the fall of Troy. It may have been one of the largest volcanic eruptions on Earth in the last few thousand years, with an estimated VEI (volcanic explosivity index) of 7. The violent eruption was centred on a small island just north of the existing island of Nea Kameni in the centre of the caldera; the caldera itself was formed several hundred thousand years ago by the collapse of the centre of a circular island, caused by the emptying of the magma chamber during an eruption. It has been filled several times by ignimbrite since then, and the process repeated itself, most recently 21,000 years ago. The northern part of the caldera was refilled by the volcano, then collapsing once more during the Minoan eruption. Before the Minoan eruption, the caldera formed a nearly continuous ring with the only entrance between the tiny island of Aspronisi and Thera; the eruption destroyed the sections of the ring between Aspronisi and Therasia, and between Therasia and Thera, creating two new channels.
The pin depicts the Torchbearer passing from a monument of Santorini city 
Product: Olympic Pin
Pin code: #04-162-028
Tiraz: <1.000pcs
Official Licensed Product
Licensed Manufacturer:

Efsimon Collection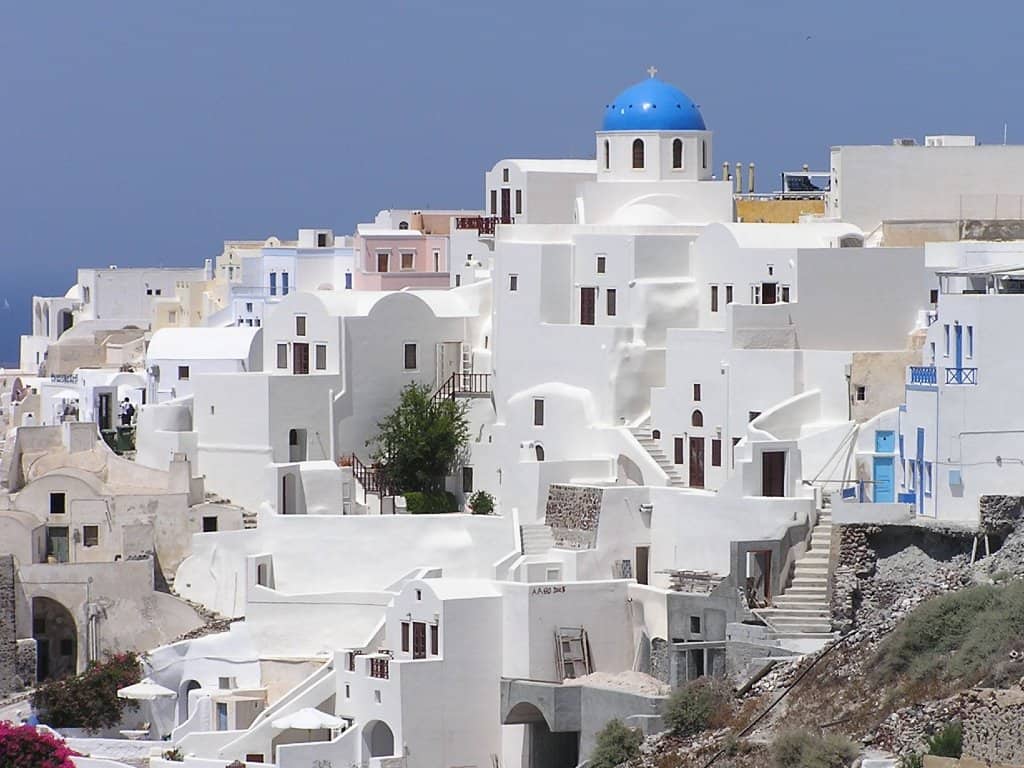 Buy it Now and Join the Wonderfull Winning World!!! 
 Athens 2004 – Beijing 2008 – London 2012 – Rio 2016 
 Games of the XXVIII Olympiad in Athens – 13 to 29 August 2004