Description

Nafpaktos – Torch Relay Greek Route
Athens 2004 Olympic Games Pin
The Olympic Flame past from Greek City, Nafpaktos.
The 2004 Summer Olympics Torch Relay took the Olympic Flame across every habitable continent, returning to Athens, Greece. Every citywhich had hosted the Summer Olympics was revisited by the torch, as well as several other cities chosen for their international importance.
The relay was the first time the Olympic flame had travelled to Africa, India and South America. The flame was transported from country to country aboard a specially-equipped Boeing 747 leased from Atlanta Icelandic (Registration TF-ARO) called Zeus. On board the flame was carried and burned continuously in specially modified miners lamps.
Nafpaktos is today a town and a former municipality in Aetolia-Acarnania, West Greece, Greece; its predecessor in the classical period is known in English as Naupactus. Nafpaktos is situated on a bay on the north coast of the Gulf of Corinth, 3 km (2 mi) west of the mouth of the river Mornos.
The name Nafpaktos means "boatyard", from ναύς (ancient Greek naus, meaning "ship") and πηγνύειν (Ancient Greek pegnuein meaning "to build"). It was later Latinized as Naupactus. In the Byzantine period, the name became Epachtos, while the Venetian term was Lepanto and the Ottoman Turkish Inebaht?. The ancient name was revived in the 19th century.
Castle of Nafpaktos
The castle is at the top of a hill that overlooks the city. This hill has the shape of a pyramid.
The grandiose fortifications of Nafpaktos built in successive construction phases, climax from the ancient times to the Ottoman Empire and, in spite of the catastrophes and damage suffered remain as one of the most important and best preserved examples of castle architecture in Greece.
We cannot say with certainty what was the form of the castle in ancient times, but it is certain that the walls existed. Remains of ancient walls are still found today on the sea side as well as the western side of the castle. It is quite possible that the castle may not have always had the form it has today with the five levels. This form was given mainly during Venetian rule.
The top of the hill is surrounded by a circular wall that is 100 meters in diameter. Two arms that follow the slope of the ground come down one to the east and one to the west and once they bend they approach again to one another and close the ports entrance with two towers.
Four transverse walls join these two arms, forming five defence lines or levels from the top to the sea. The defence levels h are reduced in size as they get closer to the top and each is an independent fort.
The pin depicts the Torchbearer passing from a monument of Nafpaktos city 
Product: Olympic Pin
Pin code: #04-162-052
Tiraz: <1.000pcs
Official Licensed Product
Licensed Manufacturer:

Efsimon Collection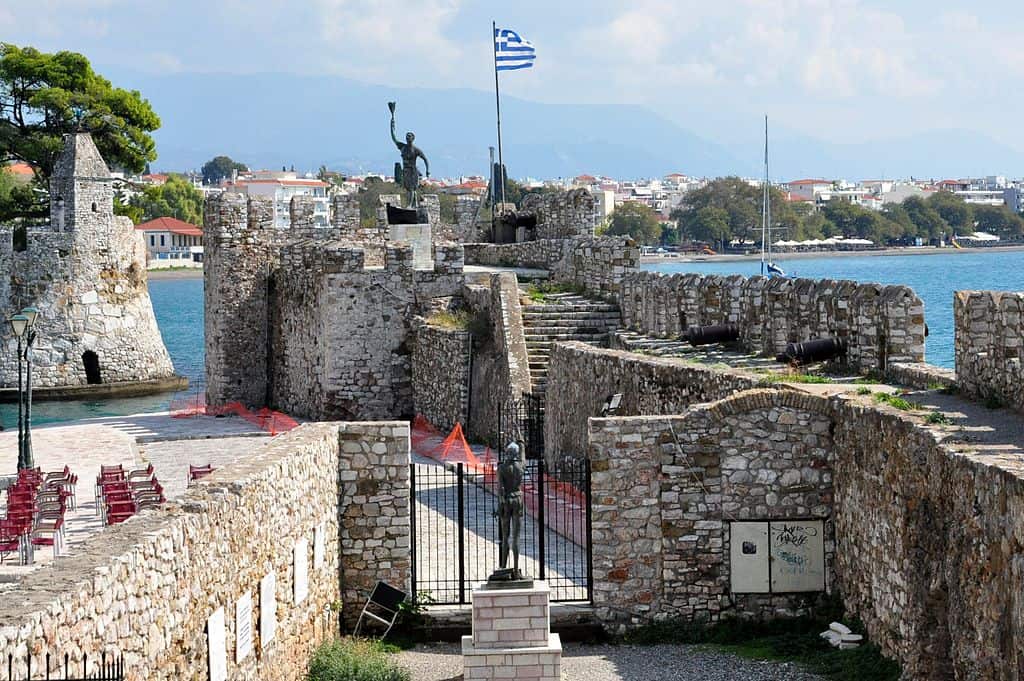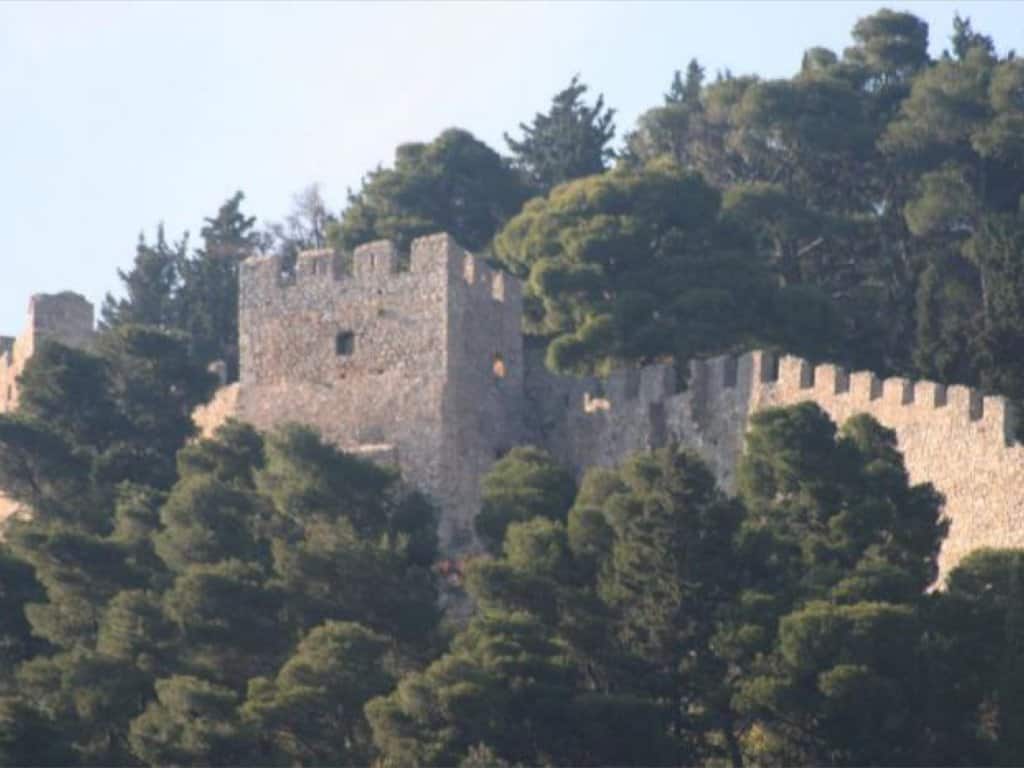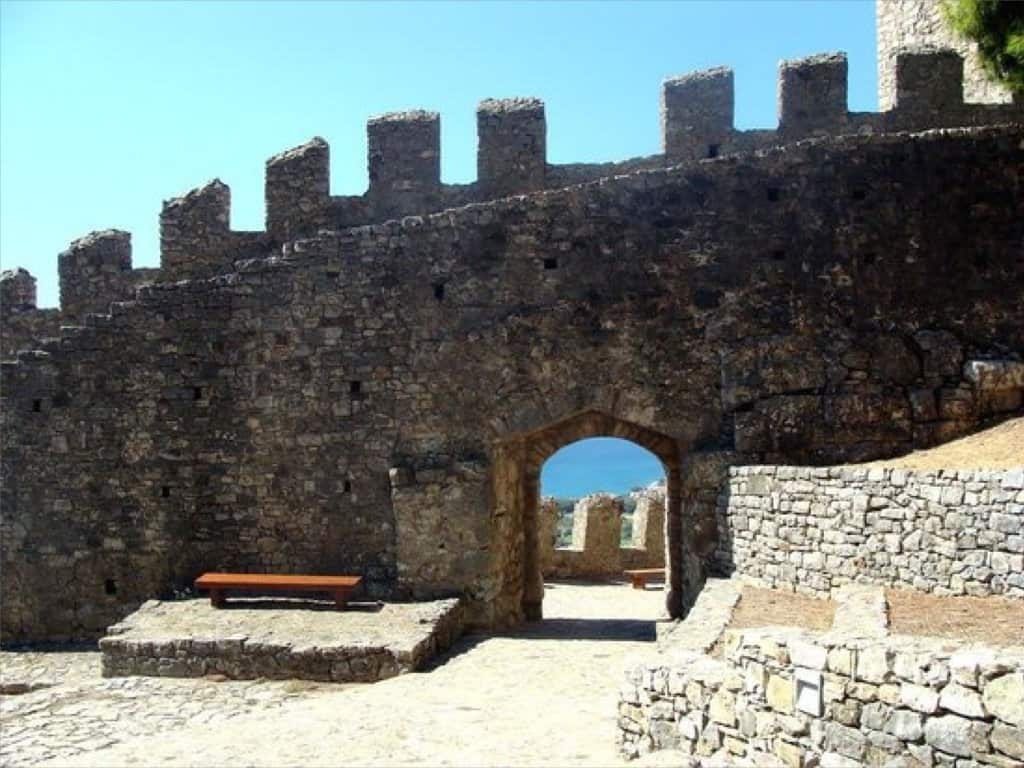 Buy it Now and Join the Wonderfull Winning World!!! 
 Athens 2004 – Beijing 2008 – London 2012 – Rio 2016 
 Games of the XXVIII Olympiad in Athens – 13 to 29 August 2004