Description

Igoumenitsa – Torch Relay Greek Route
Athens 2004 Olympic Games Pin
The Olympic Flame past from Greek City, Igoumenitsa.
The 2004 Summer Olympics Torch Relay took the Olympic Flame across every habitable continent, returning to Athens, Greece. Every citywhich had hosted the Summer Olympics was revisited by the torch, as well as several other cities chosen for their international importance.
The relay was the first time the Olympic flame had travelled to Africa, India and South America. The flame was transported from country to country aboard a specially-equipped Boeing 747 leased from Atlanta Icelandic (Registration TF-ARO) called Zeus. On board the flame was carried and burned continuously in specially modified miners lamps.
Igoumenitsa, is a coastal city in northwestern Greece. It is the capital of the regional unit Thesprotia. Its original ancient name used to be Titani.
In ancient times Igoumenitsa was known as Titani, (Gitani, Gitana, Goumani) and was one of the most important towns of the Kingdom of Thesprotis during the 4th century BC, covering 28 hectares. The circumference of its walls was 2,400 metres. The walls had four gates. Internal walls, in the shape of a sickle, divided the city in half. Its most noteworthy tower, located at the top of the hill, was round, and is thought to have been a religious sanctuary. Excavations have revealed a theatre which seats 2,500 and ruins of two temples.
The new Port of Igoumenitsa was inaugurated at 19 September 2003. It's located in the southern side of the land harbour area, outside of the urban area of the city and near to Ladochori village. It occupies a total area of 210 hectares from which 130 hectares are harbour area, while 80 hectares have been given for road construction, parking areas of private cars and trucks, refuelling station etc. The new Port provides 5 places of mooring Ro-Ro liners, international ferry routes, 12 piers with the ability of simultaneous mooring up to 7 ships with adequate land space.
The Igoumenitsa Port Authority primarily provides ship docking and passenger and vehicle traffic services. The port focuses on passenger traffic, through ferry connections to domestic and foreign destinations, while goods are transported mainly by trucks.
As one of the most important transport hubs in western Greece, the port of Igoumenitsa offers routes to Brindisi, Bari, Ancona, Trieste, Ravenna and Venice, as well as to the Greek destinations of Patras, Corfu and Paxos.
The pin depicts the Torchbearer passing from the Bulding Port of Igoumenitsa city 
Product: Olympic Pin
Pin code: #04-162-099
Tiraz: <1.000pcs
Official Licensed Product
Licensed Manufacturer:

Efsimon Collection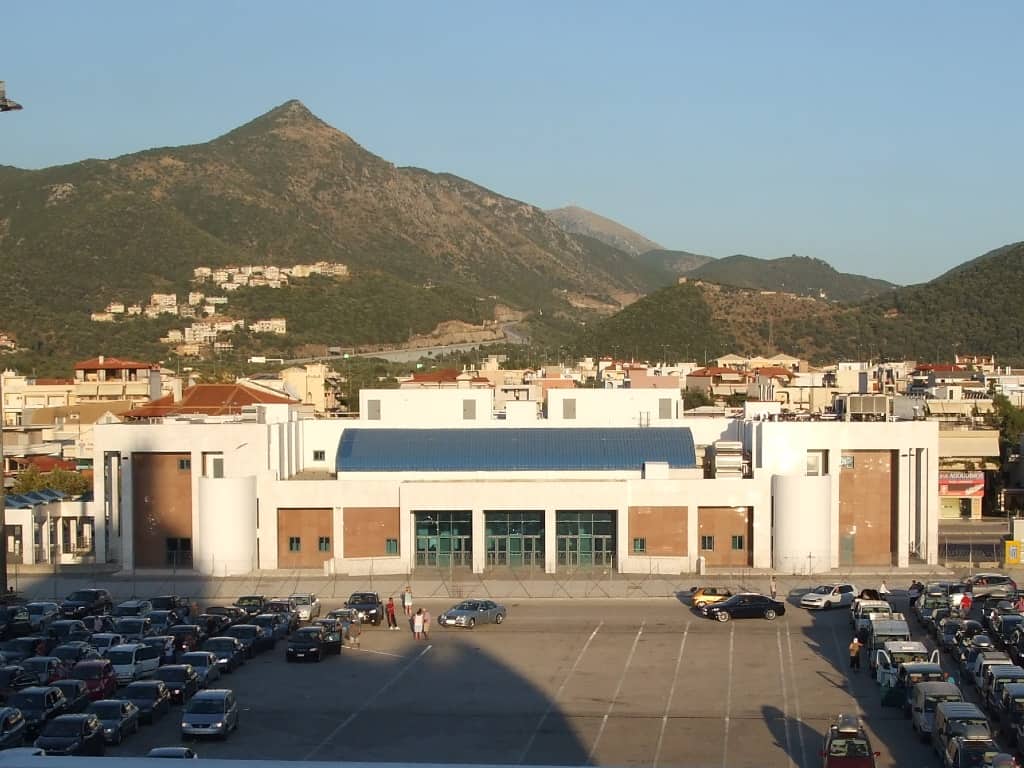 Buy it Now and Join the Wonderfull Winning World!!! 
 Athens 2004 – Beijing 2008 – London 2012 – Rio 2016 
 Games of the XXVIII Olympiad in Athens – 13 to 29 August 2004