Description

Volos – Torch Relay Greek Route Overnight Stay
Athens 2004 Olympic Games Pin
The Olympic Flame stay overnight in Greek City Volos at 31 July 2004
The 2004 Summer Olympics Torch Relay took the Olympic Flame across every habitable continent, returning to Athens, Greece. Every citywhich had hosted the Summer Olympics was revisited by the torch, as well as several other cities chosen for their international importance.
The relay was the first time the Olympic flame had travelled to Africa, India and South America. The flame was transported from country to country aboard a specially-equipped Boeing 747 leased from Atlanta Icelandic (Registration TF-ARO) called Zeus. On board the flame was carried and burned continuously in specially modified miners lamps.
Volos is a coastal port city in Thessaly situated midway on the Greek mainland, north of Athens and south of Thessaloniki. It is the capital of the Magnesia regional unit. Volos is the only outlet to the sea from Thessaly, the country's largest agricultural region.
Volos is the newest of the Greek port cities, with a large proportion of modern buildings erected following the catastrophic earthquakes of 1955. It includes the municipal units of Volos, Nea Ionia and Iolkos, as well as smaller suburban communities. The economy of the city is based on manufacturing, trade, services and tourism. Home to the University of Thessaly, the city also offers facilities for conferences, exhibitions and major sporting, cultural and scientific events. Volos participated in the 2004 Olympic Games, and the city has since played host to other athletic events, such as the European Athletic Championships. Volos hosted the 7th International Olympiad on Astronomy and Astrophysics from 27 July to 5 August 2013.
Modern Volos is built on the area of the ancient cities of Demetrias, Pagasae and Iolcos. Demetrias was established by Demetrius Poliorcetes, King of Macedon. Iolkos, Iolcos or Iolcus, was the homeland of mythological hero Jason, who boarded the ship Argo accompanied by the Argonauts and sailed in quest of the Golden Fleece to Colchis. To the west of Volos lie the Neolithic settlements of Dimini, with a ruined acropolis, walls, and two beehive tombs dating to between 4000-1200 BC, Sesklo, with the remains of the oldest acropolis in Greece (6000 BC), and also the foundations of a palace and mansions [clarification needed], among its most characteristic examples of Neolithic civilisation. Mycenaean settlements have also been discovered in Volos unearthing, at the Kastron of Palaia Hill, tablets bearing Mycenaean Greek inscriptions, written in Linear B.
The pin depicts the Torch in Volos where stay overnight
Product: Olympic Pin
Pin code: #04-161-030
Tiraz: <1.000pcs
Official Licensed Product
Licensed Manufacturer:

Efsimon Collection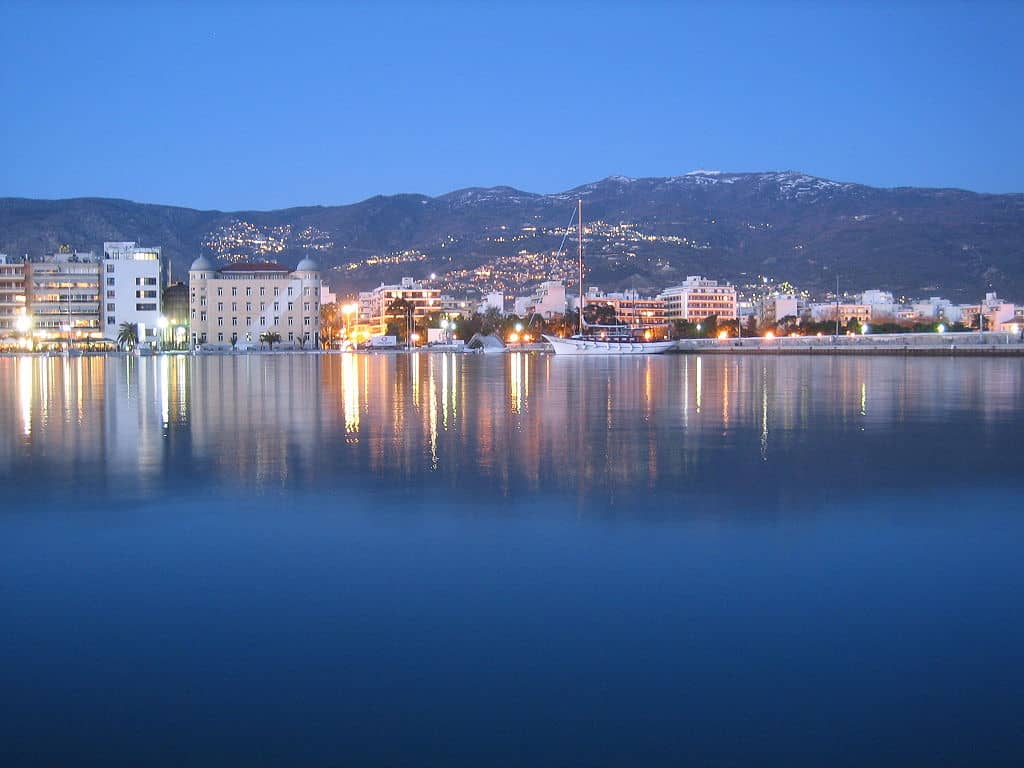 Buy it Now and Join the Wonderfull Winning World!!!  
 Games of the XXVIII Olympiad in Athens – 13 to 29 August 2004