Description

Vergina – Torch Relay Greek Route Overnight Stay
Athens 2004 Olympic Games Pin
The Olympic Flame stay overnight in Greek City Vergina at 25 July 2004
The 2004 Summer Olympics Torch Relay took the Olympic Flame across every habitable continent, returning to Athens, Greece. Every citywhich had hosted the Summer Olympics was revisited by the torch, as well as several other cities chosen for their international importance.
The relay was the first time the Olympic flame had travelled to Africa, India and South America. The flame was transported from country to country aboard a specially-equipped Boeing 747 leased from Atlanta Icelandic (Registration TF-ARO) called Zeus. On board the flame was carried and burned continuously in specially modified miners lamps.
Vergina is a small town in northern Greece, located in the regional unit of Imathia, Central Macedonia. Since the 2011 local government reform it is part of the municipality Veroia, of which it is a municipal unit.
The town is better known for its remains of Aigai, the first capital of Macedon. It was here in 336 BC that Philip II was assassinated in the theatre and Alexander the Great was proclaimed king.
Aigai has been awarded UNESCO World Heritage Site status as "an exceptional testimony to a significant development in European civilization, at the transition from classical city-state to the imperial structure of the Hellenistic and Roman periods".
It became internationally famous in 1977, when the Greek archaeologist Manolis Andronikos unearthed the burial site of the kings of Macedon, including the tomb of Philip II, father of Alexander the Great which unlike so many other tombs had not been disturbed or looted. It is also the site of an extensive royal palace and of many rich ancient tombs. A museum now contains Philip's tomb and a new museum is being constructed for the palace and other finds. The objects and paintings found in the tombs at Vergina are also of extraordinarily high quality and historical importance.
The pin depicts the Torch in Vergina where stay overnight
Product: Olympic Pin
Pin code: #04-161-024
Tiraz: <1.000pcs
Official Licensed Product
Licensed Manufacturer:

Efsimon Collection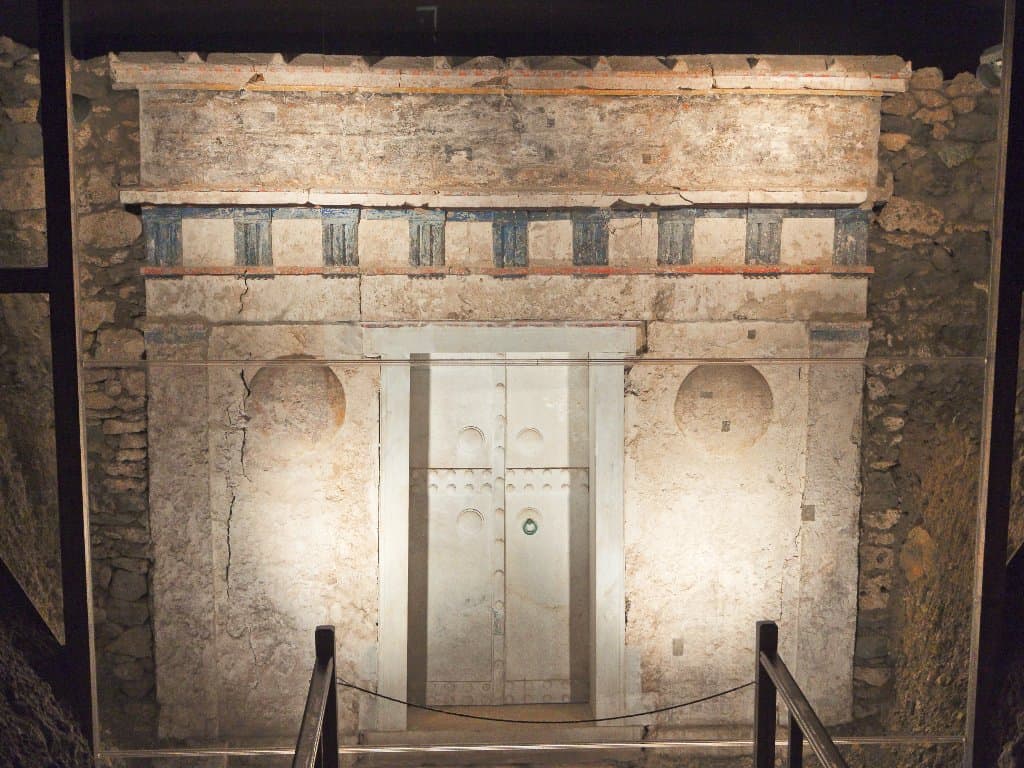 Buy it Now and Join the Wonderfull Winning World!!! 
 Athens 2004 – Beijing 2008 – London 2012 – Rio 2016 
 Games of the XXVIII Olympiad in Athens – 13 to 29 August 2004