Description

Syros – Torch Relay Greek Route Overnight Stay
Athens 2004 Olympic Games Pin
The Olympic Flame stay overnight in Greek City Syros at 14 July 2004
The 2004 Summer Olympics Torch Relay took the Olympic Flame across every habitable continent, returning to Athens, Greece. Every citywhich had hosted the Summer Olympics was revisited by the torch, as well as several other cities chosen for their international importance.
The relay was the first time the Olympic flame had travelled to Africa, India and South America. The flame was transported from country to country aboard a specially-equipped Boeing 747 leased from Atlanta Icelandic (Registration TF-ARO) called Zeus. On board the flame was carried and burned continuously in specially modified miners lamps.
Syros is a Greek island in the Cyclades, in the Aegean Sea. The largest towns are Ermoupoli, Ano Syros, and Vari (el). Ermoupoli is the capital of the island and of the Cyclades. It has always been a significant port town, and during the 19th century it was even more significant than Piraeus. Other villages are Galissas, Foinikas, Pagos, Manna, Kini and Poseidonia.
Ermoupoli stands on a naturally amphitheatrical site, with neo-classical buildings, old mansions and white houses cascading down to the harbour. The City Hall, where Miaoulis Square lies ringed with cafes and with seating areas under palm trees. The "City of Hermes" has numerous churches, including Metamorphosis, Koimisis, St. Demetrius, Three Hierarchs, Anastasis, Evangelistria and St. Nicolas. The Archaeological Museum has many finds and the Municipal Library contains numerous editions. The quarter of the town known as Vaporia is where the sea captains lived. Along its narrow streets, stand numerous neo-classical mansions.
The pin depicts the Torch in Syros where stay overnight
Product: Olympic Pin
Pin code: #04-161-013
Tiraz: <1.000pcs
Official Licensed Product
Licensed Manufacturer:

Efsimon Collection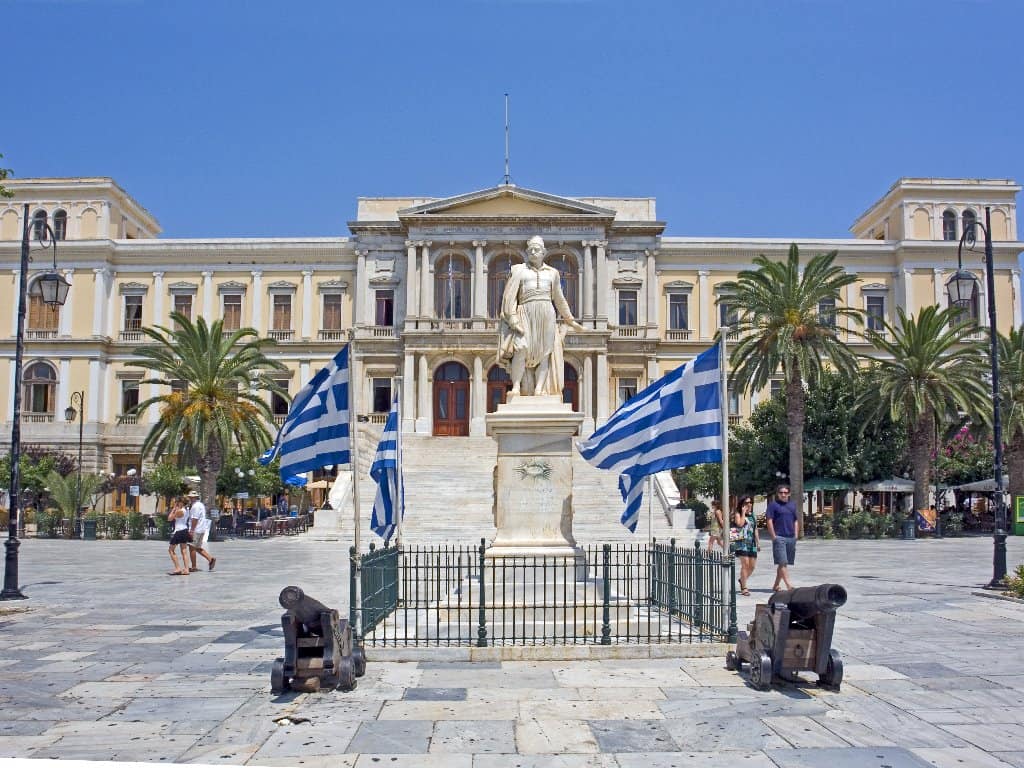 Buy it Now and Join the Wonderfull Winning World!!! 
 Athens 2004 – Beijing 2008 – London 2012 – Rio 2016 
 Games of the XXVIII Olympiad in Athens – 13 to 29 August 2004