Description

Filippi – Torch Relay Greek Route Overnight Stay
Athens 2004 Olympic Games Pin
The Olympic Flame stay overnight in Greek City Filippi at 19 July 2004
The 2004 Summer Olympics Torch Relay took the Olympic Flame across every habitable continent, returning to Athens, Greece. Every citywhich had hosted the Summer Olympics was revisited by the torch, as well as several other cities chosen for their international importance.
The relay was the first time the Olympic flame had travelled to Africa, India and South America. The flame was transported from country to country aboard a specially-equipped Boeing 747 leased from Atlanta Icelandic (Registration TF-ARO) called Zeus. On board the flame was carried and burned continuously in specially modified miners lamps.
Filippi was a city in eastern Macedonia, established by Philip II of Macedon in 356 BC and abandoned in the 14th century after the Ottoman conquest. The present municipality, Filippoi, is located near the ruins of the ancient city and is part of the region of East Macedonia and Thrace in Kavalla Greece.
Philippi was established by the king of Macedon, Philip II, on the site of the Thasian colony of Krinides or Crenides. He sited it near the head of the Aegean Sea and at the foot of Mt. Orbelos, now called Mt. Lekani, about 8 miles (13 km) north-west of Kavalla, on the northern border of the marsh that, in antiquity covered, the entire plain separating it from the Pangaion hills to the south of Greece.
The objective of founding the town was to take control of the neighbouring gold mines and to establish a garrison at a strategic passage: the site controlled the route between Amphipolis and Neapolis, part of the great royal route which crosses Macedonia from the east to the west and which was reconstructed later by the Roman Empire as the Via Egnatia. Philip II endowed the new city with important fortifications, which partially blocked the passage between the swamp and Mt. Orbelos, and sent colonists to occupy it. Philip also had the marsh partially drained, as is attested by the writer Theophrastus. Philippi preserved its autonomy within the kingdom of Macedon and had its own political institutions (the Assembly of the demos). The discovery of new gold mines near the city, at Asyla, contributed to the wealth of the kingdom and Philip established a mint there. The city was fully integrated into the kingdom under Philip V.
The pin depicts the Torch in Filippi where stay overnight
Product: Olympic Pin
Pin code: #04-161-018
Tiraz: <1.000pcs
Official Licensed Product
Licensed Manufacturer:

Efsimon Collection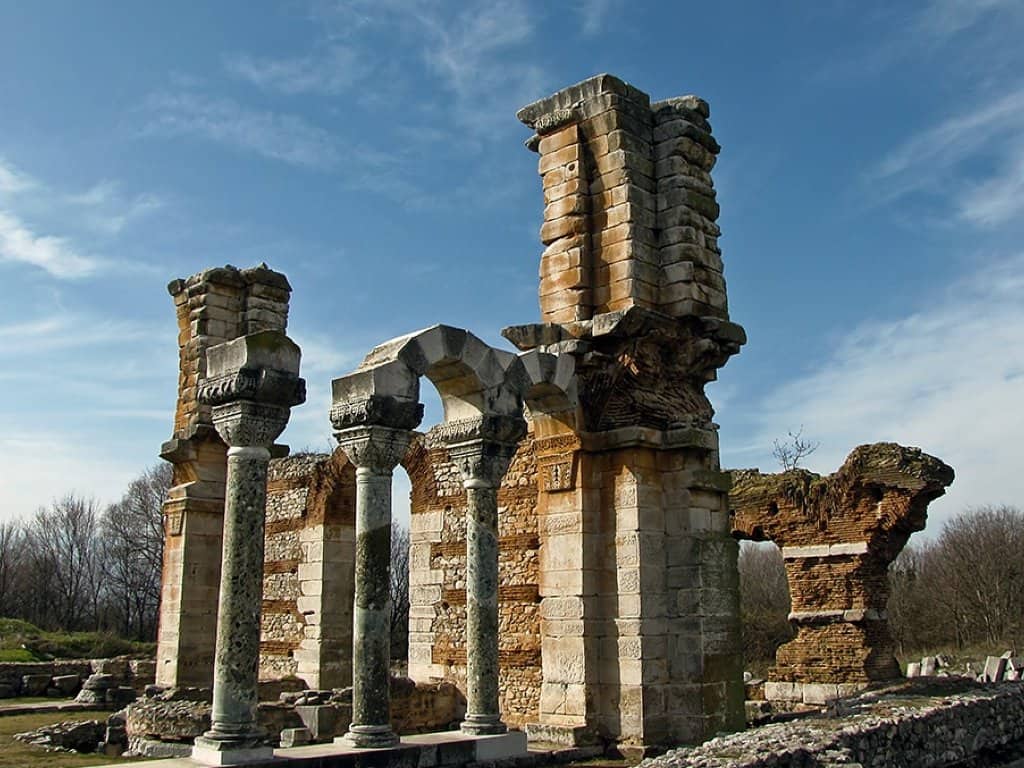 Buy it Now and Join the Wonderfull Winning World!!! 
 Athens 2004 – Beijing 2008 – London 2012 – Rio 2016 
 Games of the XXVIII Olympiad in Athens – 13 to 29 August 2004