Description

Andritsena – Torch Relay Greek Route Overnight Stay
Athens 2004 Olympic Games Pin
The Olympic Flame stay overnight in Greek City Andritsena at 25 March 2004
The 2004 Summer Olympics Torch Relay took the Olympic Flame across every habitable continent, returning to Athens, Greece. Every citywhich had hosted the Summer Olympics was revisited by the torch, as well as several other cities chosen for their international importance.
The relay was the first time the Olympic flame had travelled to Africa, India and South America. The flame was transported from country to country aboard a specially-equipped Boeing 747 leased from Atlanta Icelandic (Registration TF-ARO) called Zeus. On board the flame was carried and burned continuously in specially modified miners lamps.
Andritsaina is a town and a former municipality in Elis, West Greece, Greece.
According to tradition, Andritsaina owes its name to the wife of a Cretan shepherd named Andrikos, who -chasing his runaway sheep- came to a spring on mount Lykaion. There he built an inn that after his death was kept by his wife Andrikaina (meaning "the wife of Andrikos"). From her name and from the local pronunciation of "kai" as "tsai", the inn was named "the hostel of Andritsaina". When houses were built in the surrounding area, the settlement was named "Andritsaina".
The area was part of ancient Arcadia. Andritsaina flourished during the Frankish rule (13th-14th centuries AD) and is mentioned in the Chronicle of the Morea. The village played a crucial role during the Orlov Revolt and the Greek War of Independence. In 1826, Andritsaina was destroyed by Ibrahim Pasha's troops.
Today, the village has impressive old mansions, cobblestone streets, a square surrounded by tall trees and magnificent views. The fountain in the square (I Trani Vrysi) is the Peloponnese's oldest fountain, built in 1724. The famous Nikolopouleios library was founded in 1840 from donations of the humanist Agathofron Nikolopoulos, whose family came from Andritsaina. Its collection comprises rare 16th- and 17th-century manuscripts, in Greek and in foreign languages, important documents from the period of the Greek War of Independence and rich folklore material. Today, the library has more than 40000 volumes. The famous Temple of Epicurian Apollo at Bassae is 6 km south of Andritsaina, in Messenia.
The pin depicts the Torch in Andritsena where stay overnight
Product: Olympic Pin
Pin code: #04-161-001
Tiraz: <700pcs
Official Licensed Product
Licensed Manufacturer:

Efsimon Collection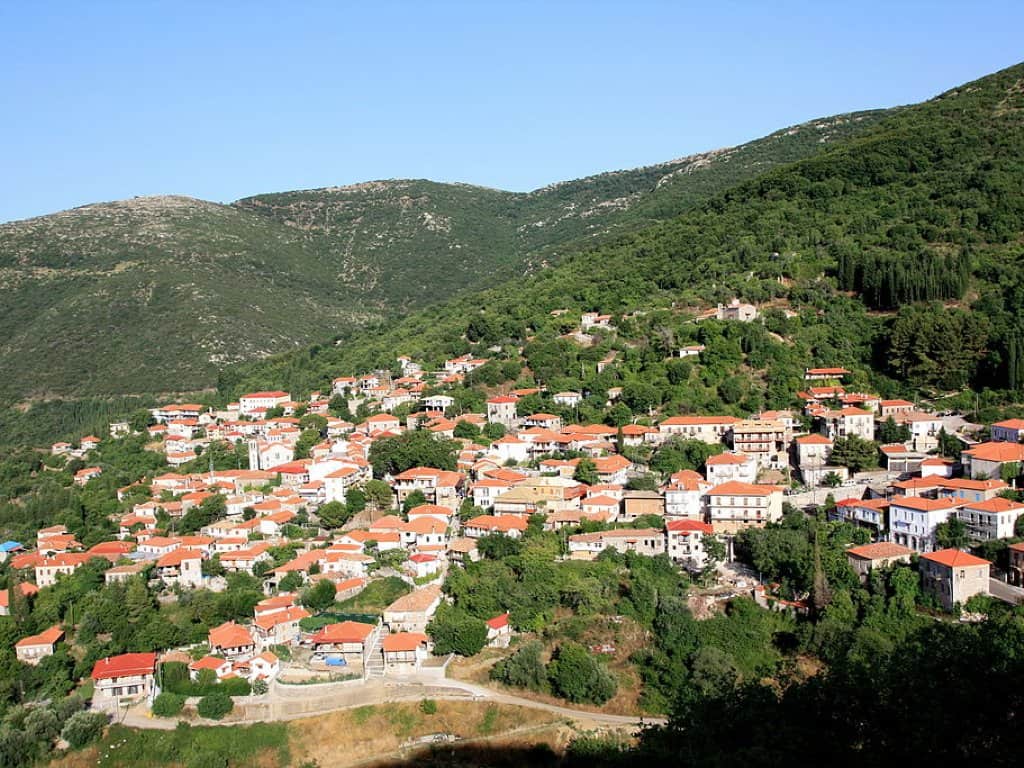 Buy it Now and Join the Wonderfull Winning World!!! 
 Athens 2004 – Beijing 2008 – London 2012 – Rio 2016 
 Games of the XXVIII Olympiad in Athens – 13 to 29 August 2004