Description

Tinos Door – Traditional Doors Series
Athens 2004 Olympic Games Pin
Tinos is a Greek island situated in the Aegean Sea. It is located in the Cyclades archipelago. In antiquity, Tinos was also known as Ophiussa (from ophis,Greek for snake) and Hydroessa (from hydor, Greek for water). The closest islands are Andros, Delos, and Mykonos. It has a land area of approximately 194 square kilometres (75 sq mi) and a 2011 census population of 8,636 inhabitants.
The island is located near the geographical center of the Cyclades island complex, and because of the Panagia Evangelistria church, with its reputedly miraculous icon of Virgin Mary that it holds, Tinos is also the center of a yearly pilgrimage that takes place on the date of the Dormition of the Virgin Mary (15 August, "Dekapentavgoustos" in Greek). This is perhaps the most notable and still active yearly pilgrimage in the region of the eastern Mediterranean. Many pilgrims make their way the 800 metres (2,600 feet) from the ferry wharf to the church on their hands and knees as sign of devotion.
The pin depicts traditional door from Tinos Island
Product: Olympic Pin
Pin code: #03-035-003
Tiraz: <2.500pcs
Official Licensed Product
Licensed Manufacturer: Efsimon Collection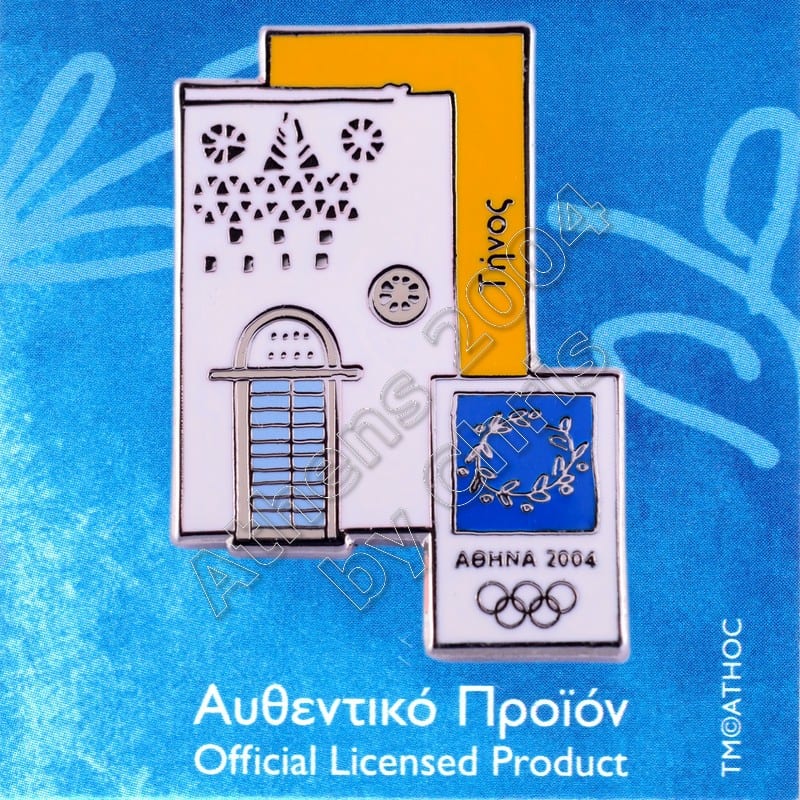 Buy it Now and Join the Wonderfull Winning World!!!  
 Games of the XXVIII Olympiad in Athens – 13 to 29 August 2004