Description
Soufli Costume – Traditional Costume
Athens 2004 Olympic Games Pin
Every Greek costume or better every Greek local costume is a set of clothing, featuring a group of people living in the Greek area. It works like any clothing: dresses and decorates the body, and presents the appearance that he wants to give the one who wears it that time to third parties, providing the self confidence and comfort. Within the conservative and strict society of the villages and the small towns, the certainty and comfort are achieved with uniformity that offers a uniform. The suit is based on tradition and conservatism and is radically different from fashion based on change. The conservatism in costume creates prohibitive taboos,and taboos  that give magical qualities in some of the sections. The clothing of a conservative group formed at times by the influence of another stronger human team. But  everything is relied on local materials and trade.
The collection of Greek Costumes includes 6 pins: Attica Costume, Soufli Costume, Kapoutzida Costume, Tanagra Costume, Paramythia Costume, Chalkidiki Costume.
Soufli Costume:
The Soufli Costume, used previously in 49 villages and 9 communities of the province, but now worn only by the elderly. Often they appear with the name caftans because of caftans, which is a key element of the costume.
The main parts of the costume is the vest, shirt, skirt, the misofoustano, the dress, the caftan, the waistband, the living, the apron, the tsourapia and kantouria.
The hair knitted in fardokossa, which was adorned with Carbone and tied the distthimeli and cheeks, decorating with Pagounis. In jewelry we find chains with coins, silver or MALAMATENIA pins, the gkerntani and Bourlis.
The pin depicts an "Soufli Costume"
Product: Olympic Pin
Pin code: PN0620002
Tiraz: <25.000pcs
Official Licensed Product
Licensed Manufacturer: Efsimon Collection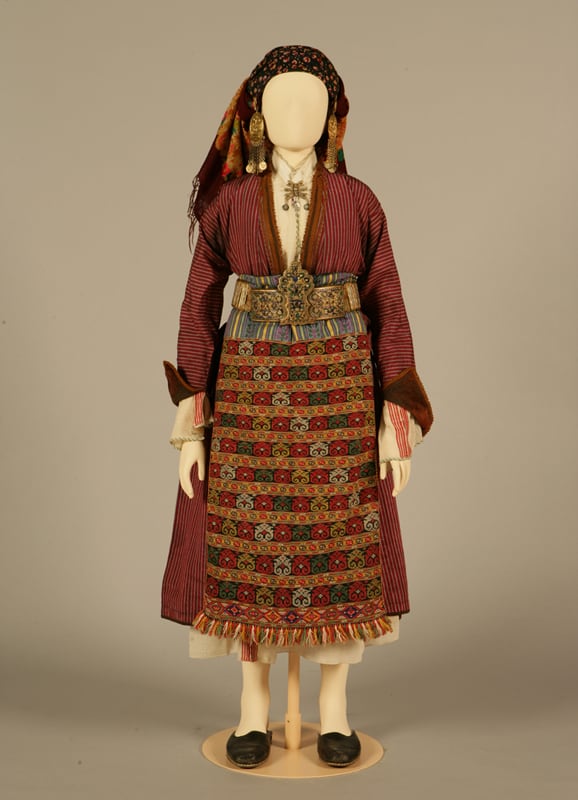 Buy it Now and Join the Wonderfull Winning World!!!  
 Games of the XXVIII Olympiad in Athens – 13 to 29 August 2004