Description

Arta's Bridge – Greek Bridge
Athens 2004 Olympic Games Pin
The Arta's Bridge is a stone bridge that crosses the Arachthos river in the west of the city of Arta in Greece. It has been rebuilt many times over the centuries, starting with Roman or perhaps older foundations; the current bridge is probably a 17th-century Ottoman construction.
The folk ballad "The Bridge of Arta" tells a story of human sacrifice during its building. From the ballad, a number of Greek proverbs and customary expressions arose, associated with interminable delays, as in the text of the ballad: "All day they were building it, and in the night it would collapse."
According to the Epirote chronicler Panayiotis Aravantinos, the bridge was first built under the Roman Empire. Some traditions say it was rebuilt when Arta became capital of the Despotate of Epirus, possibly under Michael II Doukas (r. 1230–1268). The current bridge is Ottoman, probably from 1602–06 or perhaps 1613. From the annexation of Arta in 1881 to the outbreak of the First Balkan War in 1912, the highest point of the bridge was the border between the Ottoman Empire and the Kingdom of Greece.
Characteristics Arta's Bridge
Material
Stone
Width
40 metres (130 ft)
Height
20 m (65 ft 7 in)
The pin depicts the Arta's Bridge
Product: Olympic Pin
Pin code: #03-046-001
Tiraz: <2.500pcs
Official Licensed Product
Licensed Manufacturer: Efsimon Collection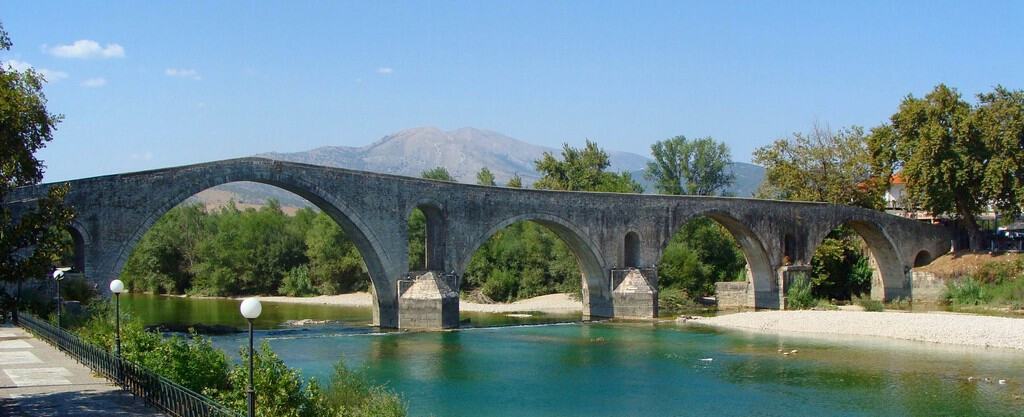 Buy it Now and Join the Wonderfull Winning World!!!  
 Games of the XXVIII Olympiad in Athens – 13 to 29 August 2004