Description
The Crow and the Fox – Aesop's Fables
Athens 2004 Olympic Games Pin
Aesop's Fables is a collection of fables credited to Aesop, a slave and storyteller believed to have lived in ancient Greece between 620 and 560 BCE. Of diverse origins, the stories associated with Aesop's name have descended to modern times through a number of sources. They continue to be reinterpreted in different verbal registers and in popular as well as artistic media.
Aesop was an Ancient Greek fabulist or story teller credited with a number of fables now collectively known as Aesop's Fables. Although his existence remains uncertain and (if he ever existed) no writings by him survive, numerous tales credited to him were gathered across the centuries and in many languages in a storytelling tradition that continues to this day. Many of the tales are characterized by animals and inanimate objects that speak, solve problems, and generally have human characteristics.
The Crow and the Fox:
A Fox once saw a Crow fly off with a piece of cheese in its beak and settle on a branch of a tree. "That's for me, as I am a Fox," said Master Reynard, and he walked up to the foot of the tree. "Good-day, Mistress Crow," he cried. "How well you are looking to-day: how glossy your feathers how bright your eye. I feel sure your voice must surpass that of other birds, just as your figure does; let me hear but one song from you that I may greet you as the Queen of Birds." The Crow lifted up her head and began to caw her best, but the moment she opened her mouth the
piece of cheese fell to the ground, only to be snapped up by Master Fox. "That will do," said he. "That was all I wanted. In exchange for your cheese I will give you a piece of advice for the future.
This series includes 6 pins/fables:
The Stag in the Water Source
The Crow and the Fox
The Zeus and the Snake
The North Wind and the Sun
The Tortoise and the Hare
The Fox and the Grapes
The pin depicts the Aesop's Fable "The Crow and the Fox"
Product: Olympic Pin
Pin code: #03-010-002
Tiraz: <7.500pcs
Official Licensed Product
Licensed Manufacturer: Efsimon Collection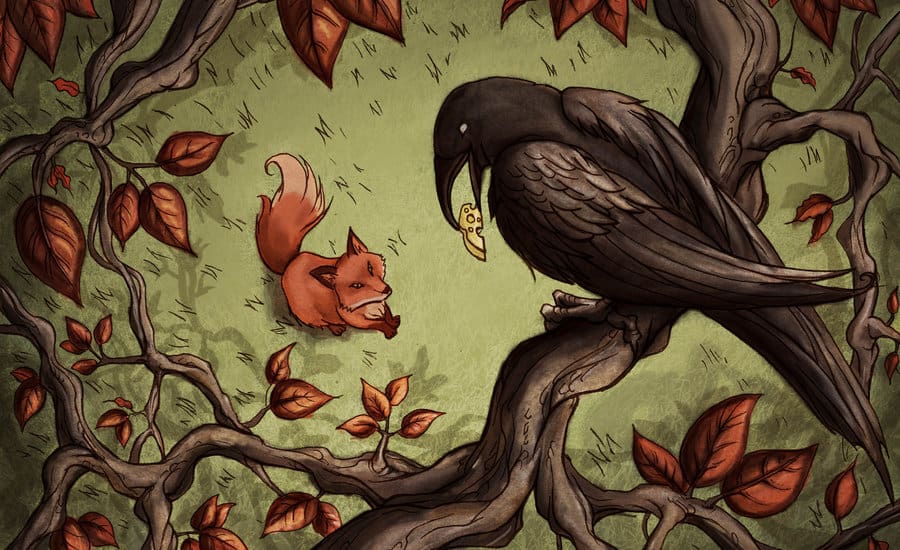 Buy it Now and Join the Wonderfull Winning World!!!  
 Games of the XXVIII Olympiad in Athens – 13 to 29 August 2004