Description
Fisherman – Ancient Murals
Athens 2004 Olympic Games Pin
Naturalistic theme of the Cycladic frescoes The Fisherman, as assigned, chronologically placed in 1650 BCE / BC. around, and was found  in 5th room of D. House at Akrotiri.
It is a painting on plaster with the technique of buon fresco, namely the fresco after its restoration has a height of 147 cm. The theme of the play is a young fisherman with his catch and on the upper part of the work we see simple linear decorative red and brown border ocher. The composition is balanced and the work is also two dimensional, although the artist attempting to afford twisted body. The feet stand out, giving faint idea of depth with the intonation of the left thigh with black line on the border, which is not emphasized strongly in the hands.
The fisherman is the central figure of the subject and the outstretched hands spread strung two fish tied with a rope in a way that survives even  in today anglers. Under his feet lies the blue color, probably showing the sea and giving the impression that the fisherman walks next to the coastline. The format is shown balanced in the center and completely uncovered without traces of jewelery, which implies the dealing with the sea, possibly with networks or spearfishing. Bearing collar in the form of a rope probably,  the usability of  which is unknown to us.
The anatomical details of sex is discrete and confirmed by the use of red ocher, which creates a strong contrast with the white mortar and brings the form  to the fore. The fish are numerous and have been attributed with relative realism, as the blue of the back contrasting with the brown belly. The ear shape is fully formatted and the eye has also the prospect of the bird. As for the blue color of the head, had initially suggested that is a symbol of divinity, as many  Mediterranean gods depicted with blue hair or beards. However, later the prof. Marinatos concluded that blue suggests shaved head, and left  two tufts of hair.
The pin depicts the acnient mural "Fisherman"
Product: Olympic Pin
Pin code: #03-031-002
Tiraz: <15.000pcs
Official Licensed Product
Licensed Manufacturer: Efsimon Collection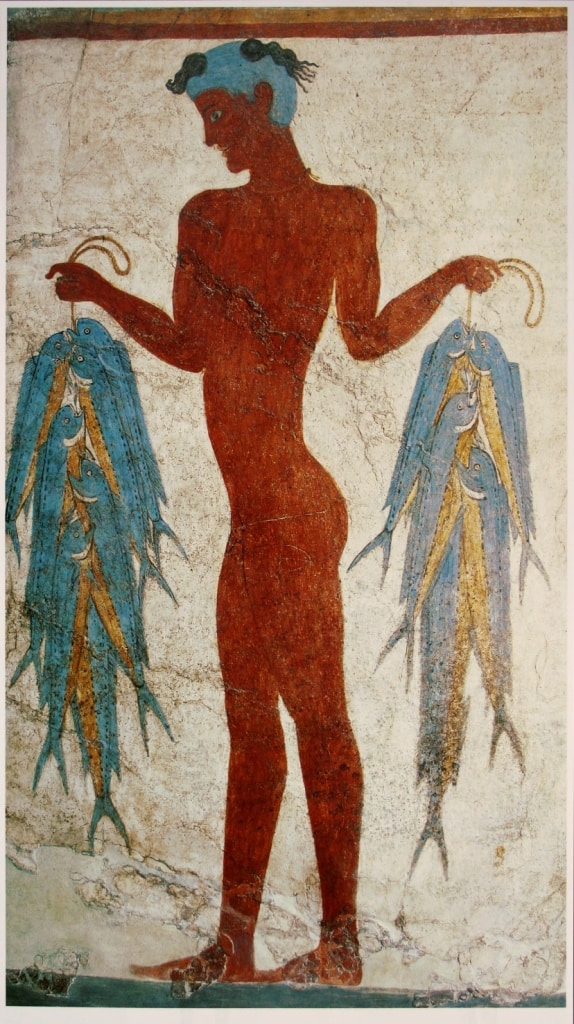 Buy it Now and Join the Wonderfull Winning World!!!  
 Games of the XXVIII Olympiad in Athens – 13 to 29 August 2004