Description

Wrestling Sport in Ancient New
Wrestling is a combat sport involving grappling type techniques such as clinch fighting, throws and takedowns, joint locks, pins and othergrappling holds. A wrestling bout is a physical competition, between two (occasionally more) competitors or sparring partners, who attempt to gain and maintain a superior position. There are a wide range of styles with varying rules with both traditional historic and modern styles. Wrestling techniques have been incorporated into other martial arts as well as military hand-to-hand combat systems.
Athens 2004 Olympic Games Pin
The pin depicting the sport wreslting in Ancient and Modern edition
Product: Olympic Pin
Pin code: #03-006-006
Tiraz: <5.000pcs
Official Licensed Product
Licensed Manufacturer:

Efsimon Collection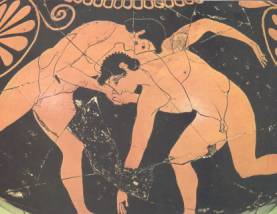 Buy it Now and Join the Wonderfull Winning World!!! 
 Athens 2004 – Beijing 2008 – London 2012 – Rio 2016 
 Games of the XXVIII Olympiad in Athens – 13 to 29 August 2004