Description


Shooting Equipment – Olympic Sport
Athens 2004 Olympic Games Pin
The 2004 Summer Olympic Games, officially known as the Games of the XXVIII Olympiad and commonly known as Athens 2004, was a premier international multi-sport event held in Athens, Greece, from 13 to 29 August 2004. Officially there were 301 events in 28 sports.
In shooting at the 2004 Summer Olympics, 390 competitors from 106 nations contested 17 events (10 for men and 7 for women). The competition took place at the Markopoulo Olympic Shooting Centre, located in the east of the Greek region of Attica.
The International Shooting Sport Federation recognizes several shooting events, some of which have Olympic status. They are divided into four disciplines: rifle, pistol, shotgun and running target.
The main distinctions between different rifle events are the distances to the target and the shooting positions used. For the other disciplines, the position is always standing, and changes include limits to shooting times and different types of targets.
The pin depicts the Shooting Equipment
Product: Olympic Pin
Pin code: #03-042-008
Tiraz: <15.000pcs
Official Licensed Product
Licensed Manufacturer: Efsimon Collection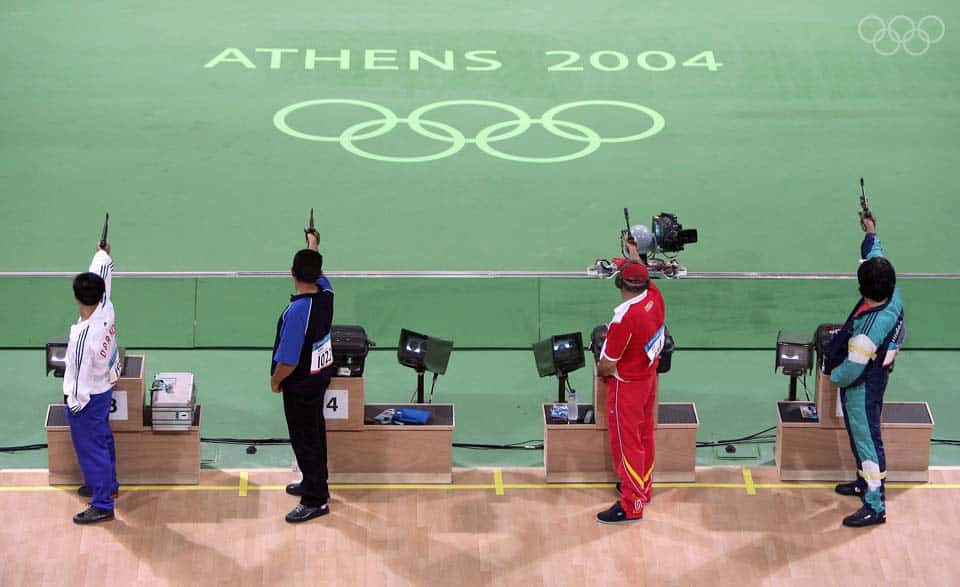 Buy it Now and Join the Wonderfull Winning World!!!  
 Games of the XXVIII Olympiad in Athens – 13 to 29 August 2004