Description
Trampoline Pictogram – Olympic Sport
Athens 2004 Olympic Games Pin
The 2004 Summer Olympic Games, officially known as the Games of the XXVIII Olympiad and commonly known as Athens 2004, was a premier international multi-sport event held in Athens, Greece, from 13 to 29 August 2004. Officially there were 301 events in 28 sports.
At the 2004 Summer Olympics in Athens, Greece, three disciplines of gymnastics were contested:artistic gymnastics (August 14–23), rhythmic gymnastics (August 26–29) and trampoline (August 20–21).
Trampolining is a competitive Olympic sport in which gymnasts perform acrobatics while bouncing on a trampoline. These can include simple jumps in the pike, tuck or straddle position to more complex combinations of forward or backward somersaults and twists.
There are three related competitive rebound sports, synchronized trampoline, tumbling (or power tumbling) and double mini-trampoline.
The pin depicts the Sport of Trampoline in Pictogram Edition
Product: Olympic Pin
Pin code: #03-074-016
Tiraz: <25.000pcs
Official Licensed Product
Licensed Manufacturer: Efsimon Collection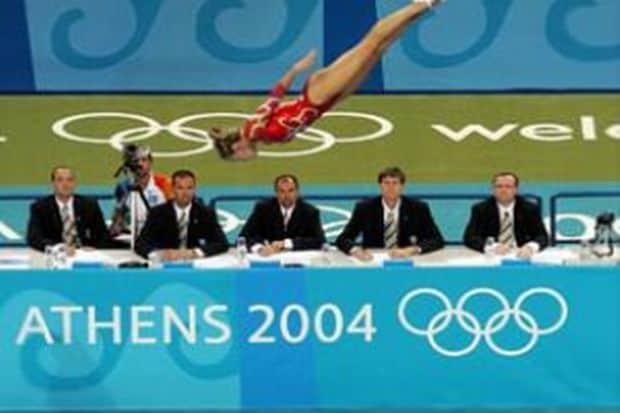 Buy it Now and Join the Wonderfull Winning World!!! 
 Athens 2004 – Beijing 2008 – London 2012 – Rio 2016 
 Games of the XXVIII Olympiad in Athens – 13 to 29 August 2004