Description


Rhythmic Gymnastics Equipment – Olympic Sport
Athens 2004 Olympic Games Pin
The 2004 Summer Olympic Games, officially known as the Games of the XXVIII Olympiad and commonly known as Athens 2004, was a premier international multi-sport event held in Athens, Greece, from 13 to 29 August 2004. Officially there were 301 events in 28 sports.
At the 2004 Summer Olympics in Athens, Greece, three disciplines of gymnastics were contested:artistic gymnastics (August 14–23), rhythmic gymnastics (August 26–29) and trampoline (August 20–21).
Rhythmic gymnastics is a sport in which individuals or teams of 5 or more manipulate one or two pieces of apparatus: clubs, hoop, ball, ribbon,rope and freehand (no apparatus). Rhythmic gymnastics is a sport that combines elements of ballet, gymnastics, dance, and apparatus manipulation. The victor is the participant who earns the most points, determined by a panel of judges, for leaps, balances, pirouettes (pivots), apparatus handling, and execution. The choreography must cover the entire floor and contain a balance of jumps, leaps, pivots, balances and flexibility movements. Each movement involves a high degree of athletic skill. Physical abilities needed by a rhythmic gymnast include strength, power, flexibility, agility, dexterity, endurance and hand-eye coordination.
The pin depicts the Rhythmic Gymnastics Equipment
Product: Olympic Pin
Pin code: #03-042-019
Tiraz: <15.000pcs
Official Licensed Product
Licensed Manufacturer: Efsimon Collection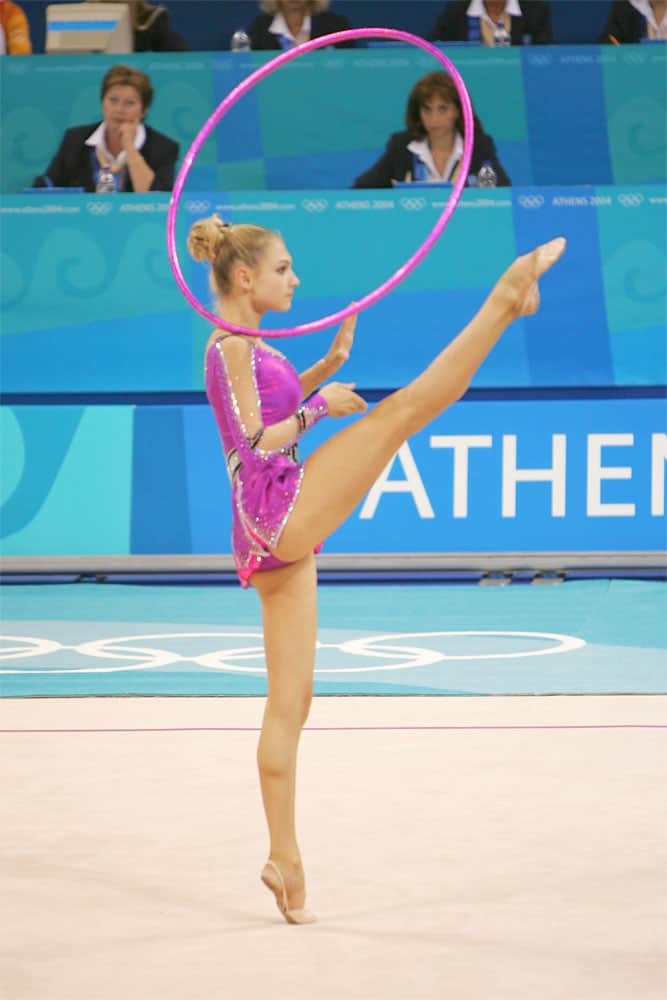 Buy it Now and Join the Wonderfull Winning World!!!  
 Games of the XXVIII Olympiad in Athens – 13 to 29 August 2004