Description
Baseball Pictogram – Olympic Sport
Athens 2004 Olympic Games Pin
The 2004 Summer Olympic Games, officially known as the Games of the XXVIII Olympiad and commonly known as Athens 2004, was a premier international multi-sport event held in Athens, Greece, from 13 to 29 August 2004. Officially there were 301 events in 28 sports.
Baseball at the 2004 Summer Olympics was held on two separate diamonds within the Helliniko Olympic Complex, from August 15 to August 25. This was a male-only event.
The competition consisted of a preliminary round with each team playing all the other teams once, for a total of seven games. The top four teams at the end of this round advanced to the medals round. The medals round consisted of two semifinal games with the winners advancing to the gold medal game. The losing teams of the semifinals would play in the bronze medal game.
Baseball is a bat-and-ball game played between two teams of nine players each who take turns batting and fielding.
The batting team attempts to score runs by hitting a ball that is thrown by the pitcher with a bat swung by the batter, then running counter-clockwise around a series of four bases: first, second, third, and home plate. A run is scored when a player advances around the basesand returns to home plate.
Players on the batting team take turns hitting against the pitcher of the fielding team, which tries to prevent runs by getting hitters out in any of several ways. A player on the batting team who reaches a base safely can later attempt to advance to subsequent bases during teammates' turns batting, such as on a hit or by other means. The teams switch between batting and fielding whenever the fielding team records three outs. One turn batting for both teams, beginning with the visiting team, constitutes an inning. A game comprises nine innings, and the team with the greater number of runs at the end of the game wins.
The pin depicts the Sport of Baseball in Pictogram Edition
Product: Olympic Pin
Pin code: #03-074-004
Tiraz: <25.000pcs
Official Licensed Product
Licensed Manufacturer: Efsimon Collection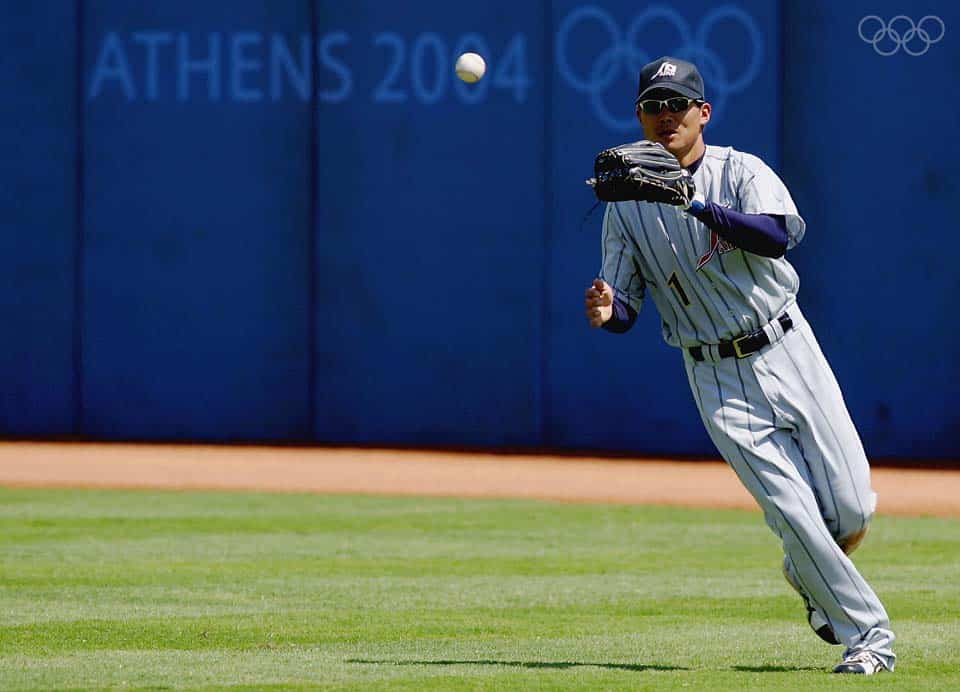 Buy it Now and Join the Wonderfull Winning World!!! 
 Athens 2004 – Beijing 2008 – London 2012 – Rio 2016 
 Games of the XXVIII Olympiad in Athens – 13 to 29 August 2004