Description

Sitting Volleyball Paralympic Sport Pin
Sitting volleyball (sometimes known as paralympic volleyball) is a form of volleyball for disabled athletes entered the Paralympic Games as a demonstration sport for amputees in 1976 in Toronto, Canada and played as a medal sport thereafter.
In sitting volleyball, a 0.8 meter-wide net is set at 1.15 meters high for men and 1.05 meters high for women. The court is 10 x 6 meters with a 2-meter attack line. Players must have at least one buttock in contact with the floor whenever they make contact with the ball. It is also possible to block the serve and jousts are generally replayed. Athletes with the following disabilities are eligible to compete in sitting volleyball: amputees, spinal cord injuries, cerebral palsy, brain injuries and stroke. There are no athlete classifications by disability.
The pin depicts an athlete of Sitting Volleyball Paralympic Sport 
Product: Paralympic Pin
Pin code: #04-194-001
Tiraz: <1.500pcs
Official Licensed Product
Licensed Manufacturer:

Efsimon Collection
Sitting Volleyball Paralympic Sport: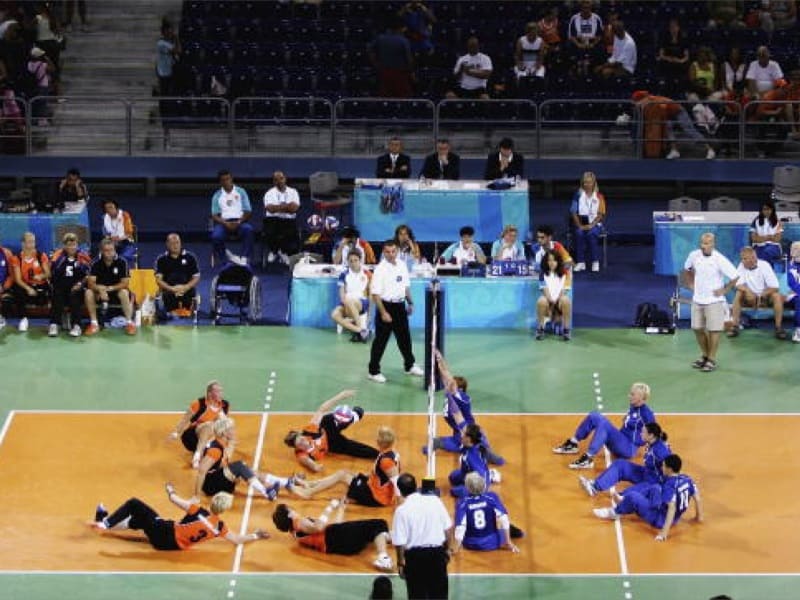 Athens 2004 Paralympic Games
The 2004 Summer Paralympics were held in Athens, Greece, from September 17 to September 28. The twelfth Paralympic Games, an estimated 4,000 athletes took part in the Athens programme, with ages ranging from 11 to 66. 3.806 athletes from 135 nations competed in the Athens Paralympics
A total of 1567 medals were awarded during the Athens games: 519 gold, 516 silver, and 532 bronze. China topped the medal count with more gold medals, more silver medals, and more medals overall than any other nation.
The 2004 Summer Paralympics included 19 sports. New events featured in the Games were five-a-side blind football, women's sitting volleyball, and quads wheelchair tennis.
Buy it Now and Join the Wonderfull Winning World!!!  
 2004 Summer Paralympic Games in Athens – 17 to 28 September 2004