Description


Mascot in Sports – Olympic Tattoos
Athens 2004 Olympic Games
The 2004 Summer Olympic Games, officially known as the Games of the XXVIII Olympiad and commonly known as Athens 2004, was a premier international multi-sport event held in Athens, Greece, from 13 to 29 August 2004 with the motto Welcome Home. 
Memorabilia from Olympic Games Athens 2004. The series of tattoos memorabilia includes Mascot in Olympic Sports.
The package of tattoos includes:
12pcs Tattoos with Mascot in Olympic Sports (Water Polo, Synchronized Swimming, Diving, Swimming, Canoe Kayak Sprint, Beach Volleyball, Rowing, Handball, Canoe Kayak Slalom, Sailing, Softball, Triathlon)
Applications Instructions of Tattoos:
For long lasting, stick on a clean and dry skin or any other surface
Remove top sheet.
Wet tattoo generously with water, put tattoo face down on the skin or any other surface.
Press down.
Wati 40-50 seconds, gently slide backing paper away. Pat tatoo dry.
Removal Instructions of Tattoos:
Remove with oil or alcohol
Not suitable for children under 3 years
Safe and non toxic tattoos
The tattoos depicts Mascot in Olympic Sports
Product: Olympic Tattoo
Tattoo code: W403
Official Licensed Product
Licensed Manufacturer: High-Q (High Quality Sportswear)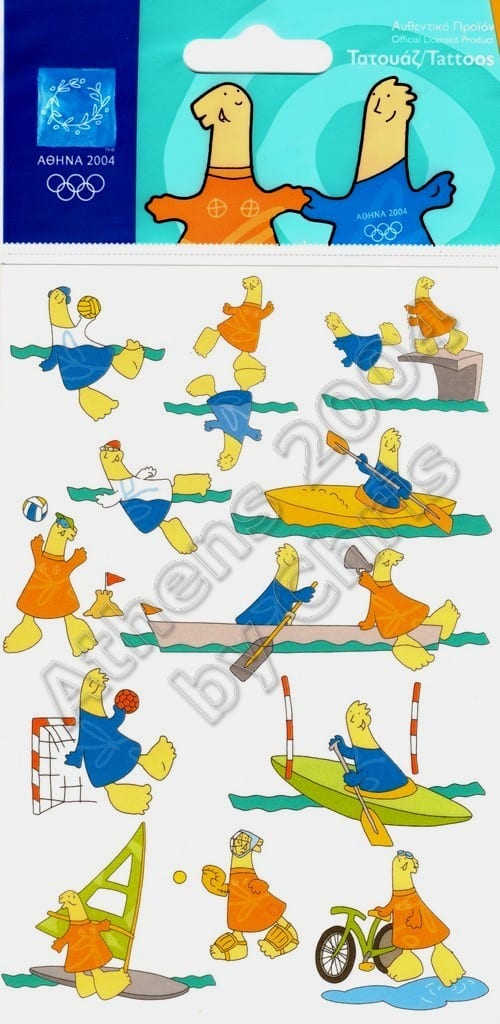 Buy it Now and Join the Wonderfull Winning World!!!  
 Games of the XXVIII Olympiad in Athens – 13 to 29 August 2004